Men, Women And Children's Box Office Grosses Are A Disaster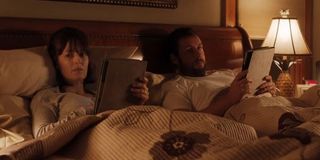 So much for Men, Women And Children being a comeback for Jason Reitman. After a tepid reception at its world premiere in the Toronto International Film Festival, the drama that stars Jennifer Garner, Adam Sandler and Rosemarie DeWitt tanked hard at the box office this weekend.
Box Office Mojo reports Men, Women And Children made just $320,000 this weekend. That's not a good figure for a limited release, much less the expanded nationwide release the drama saw last week. Men, Women And Children was playing in 608 theaters. Meaning a per theater average of $526. By contrast, Alejandro González Iñárritu's Birdman earned $415,000 as it debuted in limited release this weekend. And that title played in just four theaters, averaging $103,750 per screen.
What does all this mean for Jason Reitman and Men, Women And Children? Nothing good.
When its first trailer hit, the buzz for Men, Women And Children was good. And its subject was topical. Based on the Chad Kultgen novel, this drama aimed to explore how our modern technological luxuries and the age of the internet are impacting our interpersonal relationships. An R-rated ensemble that includes a family man seeking escorts online, a mother obsessed with posting sexy photos of her teen daughter online, and teens tempted by texting and sexting.
Reitman had rounded up a promising cast that included not only his Juno star Jennifer Garner and commercially viable Adam Sandler, but also indie darlings Rosemarie DeWitt and Judy Greer, as well as The Fault In Our Stars' Ansel Elgort. Further playing in Reitman's favor was that adaptations have done so well for him in the past. He first drew notice for his wickedly funny adaptation of Christopher Buckley's novel Thank You For Smoking. Then in 2010, his translation of Walter Kirn's Up In The Air to the big screen earned 6 Oscar nominations. But his third dip into adaptations was Labor Day, a drama with an enticing cast that was a flop with critics and audiences.
Men, Women And Children was meant to be Jason Reitman's follow-up and redemption. It had a great cast. On paper, it looked solid. In its trailer, it looked compelling. But in execution, not so much. Critics called it "narratively crude," "edgy for edgy's sake" and "a rare misfire."
Our own Sean O'Connell praised Reitman for attempting something new, a film less about stories and charm than lingering on character. But admits, "I still feel that Jason Reitman is at his best when he has a story to tell."
Basically, count Men, Women And Children out of the award season race. And as for Jason Reitman, we're still rooting for him because Juno, Young Adult and Up in the Air are just that good. Maybe he should get back in touch with Diablo Cody?
Your Daily Blend of Entertainment News
Staff writer at CinemaBlend.