Michael Keaton's Birdman Gets Even Stranger With A Stunning New Trailer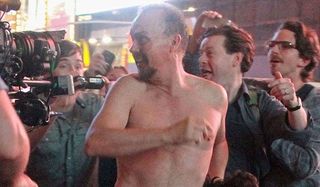 WARNING: This trailer contains language that is NSFW.
Michael Keaton is going a bit meta with Birdman, a movie about an actor best-known for playing a superhero in decades past. We've been fascinated by this dark comedy since its first trailer hit. But the official international trailer above, is giving us a deeper look into this buzzed about pic.
The first trailer introduced us to Riggan Thomson, a has-been whose brightest brush with fame was long ago when he played the titular fictional superhero Birdman. Now, he's haggard, desperately hanging on to his crumbling celebrity. And maybe he's crazy, strolling through New York City's Time Square in his underwear. He fantasizes about his superhero role coming to life and saving him from his troubles. But those troubles were vague. Mostly, the first trailer established a subversive superhero narrative with a clever brand of humor, and a cast stacked with stars like Emma Stone, Ed Norton, Zach Galifianakis, Andrea Riseborough and Naomi Watts.
Birdman looked like it could be one of the best comedies of the year. And unexpectedly, it was coming from Alejandro González Iñárritu, the celebrated director of crushing dramas like Babel, Biutiful and Amores Perros. But Birdman began earning headlines that suggested it was more than a hilarious showbiz movie. A rumor surfaced that the film is made as if its one, continuous shot, a hugely ambitious and rare device. Then Birdman won a coveted venue for its world premiere at the opening night of the upcoming Venice Film Festival. An announcement that the movie would be the closing night selection for the prestigious New York Film Festival followed. Clearly, Birdman is much more than a comedy that plays on the persona of its leading man.
In the latest trailer, intended for international audiences we get a crasser and fuller perspective on Birdman or The Unexpected Virtue of Ignorance, as it is slated to be titled overseas. Keaton's has-been is reaching for one last gasp of fame by writing and starring in a Broadway play that he's cast a scene-stealing Ed Norton in. We learn that that grumbling voice we heard in the first trailer isn't just the anti-hero's inner monologue. Riggan doesn't talk like that. It's implied that Birdman does. Birdman is criticizing Riggan's every move, and it's pushing the guy to a dangerous place on the brink of sanity.
Emma Stone is established as his infuriated daughter, who challenges him with Riggan's fear of having no import. So it seems that in the face of feeling powerless, this "Hollywood clown" is striving to be a superhero once more. "Let's got back one more time and show them what we're capable of. There you go, you motherfucker!"
Count us in.
Birdman (opens in new tab) opens October 17th.
Staff writer at CinemaBlend.
Your Daily Blend of Entertainment News
Thank you for signing up to CinemaBlend. You will receive a verification email shortly.
There was a problem. Please refresh the page and try again.