Weekend Box Office: Avengers Crush More Records Second Week In A Row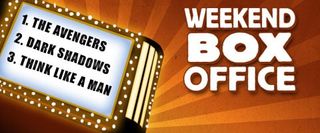 The Avengers continued its triumphant box office reign this weekend, breaking more records, nearly overtaking Hunger Games to be the top money maker of the year so far, and leaving Tim Burton and Johnny Depp's Dark Shadows to languish in a depressing, money-losing second place.
With $103 million banked this weekend, Avengers easily secured largest second weekend ever ahead of Avatar's $75 million record. Sweeping to $373 million in domestic sales it took the record for fastest movie to reach $300 million and $350 million, and crossed into the $1 billion range in overall international sales.
Dark Shadows, reported to have run up a budget of $150 million, slumped into a distant second place with just $28 million. With little more than $65 million total world-wide, the mediocre vampiric dark comedy is set to suck its way into the box office graveyard.
The Best Exotic Marigold Hotel has the kind of obscure title that scares away most American audiences but thanks to having more amazing British actors than you can shake a crumpet at, snuck into the number eight spot while only showing in 180 theaters. Opening this weekend, also in small release, Lions Gate's Girl In Progress eeked out a tenth place debut with just $1.3 million in 300 theaters.
For the full weekend top ten, check out the chart below:
1.

Marvel's The Avengers
$103,163,000
Total: $373,182,000
LW: 1 WR: 2
THTRS: 4,349
2.

Dark Shadows *
$28,805,000
Total: $28,805,000
LW: N WR: 1
THTRS: 3,755
3.

Think Like a Man
$6,300,000
Total: $81,917,000
LW: 2 WR: 4
THTRS: 2,052
4.

The Hunger Games
$4,400,000
Total: $386,902,000
LW: 3 WR: 8
THTRS: 2,531
5.

The Lucky One
$4,055,000
Total: $53,721,000
LW: 5 WR: 4
THTRS: 2,839
6.

The Pirates! Band of Misfits
$3,200,000
Total: $23,104,000
LW: 4 WR: 3
THTRS: 3,079
7.

The Five-Year Engagement
$3,100,000
Total: $24,377,000
LW: 6 WR: 3
THTRS: 2,569
8.

The Best Exotic Marigold Hotel
$2,650,000
Total: $3,723,000
LW: 16 WR: 2
THTRS: 178
9.

Chimpanzee
$1,624,000
Total: $25,586,000
LW: 9 WR: 4
THTRS: 1,559
10.

Girl in Progress *
$1,350,000
Total: $1,350,000
LW: N WR: 1
THTRS: 322
Your Daily Blend of Entertainment News
Thank you for signing up to CinemaBlend. You will receive a verification email shortly.
There was a problem. Please refresh the page and try again.