Weekend Box Office: Gone Girl Goes Second Weekend At Number One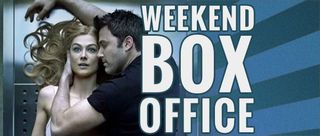 Gone Girl held the number one spot for a second weekend in a row. With $26 million it had a small lead on newcomer Dracula Untold and the $23 million debut it enjoyed. Third place went to Alexander and the Terrible, Horrible, No Good, Very Bad Day, which opened at third place with $19 million, not bad compared to other recent movies in the kid's book adaptation category (the first two Diary of a Wimply Kid movies opened in the low $20 millions).
Robert Downey Jr. is generally known these days for the roles of Tony Stark and Sherlock Holmes, so it's easy to forget he does the odd drama here and there. His latest, The Judge landed in fifth with $13 million. While that might not seem bad for a rated-R drama, the movie's $50 million price tag suggests such a low opening will end up a box office bust.
Critics had little positive to say about the fourth new comer in the top ten, Addicted, but it offered enough titillation to draw $7 million. That might not seem like much, but given that it debuted in less than 850 venues (major releases these days usually see at least 3,000) it managed almost $9,000 per screen, the highest per screen total in the top ten.
Indie and indie-ish movies playing in small to very small release had mixed results. Jeremy Renner's Kill the Messenger from Focus Features made just under a million despite showing on over 270 screens. Sony Classics' Whiplash did better, making $144,000 at just 6 venues. The Weinsteins had a mixed bag. Headlined by Bill Murray, St. Vincent made a solid $121,000 at 4 locations while the Simon Cowell-produced musical One Chance, which has earned over $5 million in the UK and Australia and almost another $5 million elsewhere in the world, banked a paltry $763 per screen on over 40 screens for a whimpering $32,800 domestic launch.
For the full weekend top ten, check out the chart below:
1.
Gone Girl

$26,800,000Total: $78,281,000LW: 1
THTRS: 3,284
2.
Dracula Untold *

$23,457,000Total: $23,457,000LW: N
THTRS: 2,885
3.

Alexander and the Terrible, Horrible, No Good, Very Bad Day *
$19,100,000
Total: $19,100,000
LW: N
THTRS: 3,088
4.
Annabelle

$16,365,000Total: $62,156,000LW: 2
THTRS: 3,215
5.
The Judge *

$13,330,000Total: $13,330,000LW: N
THTRS: 3,003
6.

The Equalizer
$9,725,000
Total: $79,885,000
LW: 3
THTRS: 3,117
7.

Addicted *
$7,600,000
Total: $7,600,000
LW: N
THTRS: 846
8.
The Maze Runner

$7,500,000Total: $83,840,000LW: 5
THTRS: 3,072
9.
The Boxtrolls

$6,676,000Total: $41,032,000LW: 4
THTRS: 3,270
10.

Left Behind (2014)
$2,909,000
Total: $10,920,000
LW: 6
THTRS: 1,887
Your Daily Blend of Entertainment News
Thank you for signing up to CinemaBlend. You will receive a verification email shortly.
There was a problem. Please refresh the page and try again.