Weekend Box Office: Independence Day Goes To The Vampires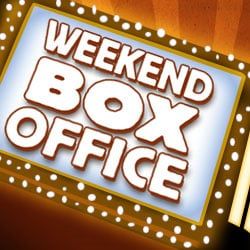 Pretty, polite vampires and shirtless teenage werewolves with rock hard abs easily topped the box office this Independence Day weekend, pulling in $69 million. Add that on to the sales it raked in on Wednesday and Thursday and Eclipse, the third movie in the Twilight Saga, has banked an impressive $161 million in its first five days.
That's just shy of the $164 million the second Twilight entry New Moon made in its first five days. After topping New Moon's record for the most cash made during early midnight screenings, Eclipse has been playing catch up with its predecessor, falling just short each step of the way.
M. Night Shyamalan's follow up to the abysmal The Happening had a rough start. The writer/director's adaptation of the animated series Avatar: The Last Airbender came in second place with only $40 million. With the $17 million it made Thursday the movie is a long ways from recovering its effects-laden $150 million budget. The last thing M. Night's career needs is another financial flop. At this point a solid outpouring at international box offices is his only hope.
Not only Shyamalan, the movie's franchise may also ride on this first movie's success. There are two more movies in the potential trilogy, but if cashflow doesn't improve soon it may go the way of the poorly crafted and poorly received Eragon.
Indie comedy Cyrus expanded to just seventy-plus theaters this weekend but garnered enough attention to sneak into the number ten spot. At $770,000 it's not a tremendous amount of cash, but $10,000 per screen is no laughing matter.
1.

The Twilight Saga: Eclipse *
$69,000,000 -
Total: $161,000,000
LW: N WR: 1
THTRS: 4,468
2.

The Last Airbender *
$40,650,000 -
Total: $57,000,000
LW: N WR: 1
THTRS: 3,169
3.

Toy Story 3
$30,174,000 -
Total: $289,000,000
LW: 1 WR: 3
THTRS: 4,028
4.

Grown Ups
$18,500,000 -
Total: $77,082,000
LW: 2 WR: 2
THTRS: 3,534
5.

Knight & Day
$10,200,000 -
Total: $45,508,000
LW: 3 WR: 2
THTRS: 3,104
6.

The Karate Kid
$8,000,000 -
Total: $151,523,000
LW: 4 WR: 4
THTRS: 3,109
7.

The A-Team
$3,025,000 -
Total: $69,116,000
LW: 5 WR: 4
THTRS: 2,153
8.

Get Him to the Greek
$1,185,000 -
Total: $57,427,000
LW: 6 WR: 5
THTRS: 884
9.

Shrek Forever After
$799,000 -
Total: $232,182,000
LW: 7 WR: 7
THTRS: 957
10.

Cyrus
$770,000 -
Total: $1,488,000
LW: 20 WR: 3
THTRS: 77
Your Daily Blend of Entertainment News
Thank you for signing up to CinemaBlend. You will receive a verification email shortly.
There was a problem. Please refresh the page and try again.