Weekend Box Office: Insurgent Commands Top Spot, Gunman Misfires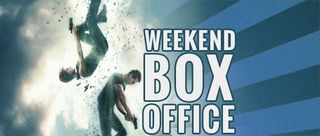 The Divergent Series returned to theaters this weekend with the second of four movies in the film franchise. One year after Divergent opened at number one with $54 million, its sequel did exactly the same thing.
Insurgent debuted in the box office top spot with $54 million, neither improving on or falling behind its predecessor. That's good news for Lionsgate given that the first and second parts of the third book which will make up the third and fourth movies (after all, it wouldn't be a young adult book-to-movie franchise if the last installation wasn't split to be mined for every penny it was worth) are set to hit theaters in March of the next two years.
Sean Penn's latest, The Gunman, which has an international leading man appeal with a cast that include Jaiver Barden, Idris Alba and Ray Winstone, flopped hard. Following a harsh pounding at the hands of critics (14% on Rotten Tomatoes) the movie settled in at fourht place with just $5 million. That's harsh news for the movie and its reported $40 million production budget.
Pure Flix' attempt to produce a wide release movie that was drama enough to attract a broad audience but preachy enough to give religious conservatives an excuse to buy a ticket, also fell flat. Do You Believe? banked just $4 million. That's less than half of what God's Not Dead earned on its opening weekend, the last wide release by the same creators.
For the full weekend top ten check out the chart below:
1.
The Divergent Series: Insurgent

$54,025,000Total: $54,025,000LW: N
THTRS: 3,875
2.
Cinderella (2015)

$34,492,000Total: $122,041,000LW: 1
THTRS: 3,848
3.
Run All Night

$5,115,000Total: $19,722,000LW: 2
THTRS: 3,171
Swipe to scroll horizontally
4.
The Gunman
$5,009,000
Total: $5,009,000
LW: N
THTRS: 2,816
5.
Kingsman: The Secret Service

$4,600,000Total: $114,570,000LW: 3
THTRS: 2,223
Swipe to scroll horizontally
6.
Do You Believe?
$4,000,000
Total: $4,000,000
LW: N
THTRS: 1,320
7.
The Second Best Exotic Marigold Hotel

$3,450,000Total: $24,125,000LW: 6
THTRS: 2,016
8.
Focus (2015)

$3,300,000Total: $49,403,000LW: 4
THTRS: 2,055
9.
Chappie

$2,650,000Total: $28,300,000LW: 5
THTRS: 2,429
10.
The SpongeBob Movie: Sponge Out of Water

$2,350,000Total: $158,794,000LW: 7
THTRS: 1,980
Your Daily Blend of Entertainment News
Thank you for signing up to CinemaBlend. You will receive a verification email shortly.
There was a problem. Please refresh the page and try again.