Weekend Box Office: Man of Steel Flies High, Snags Biggest June Opening Ever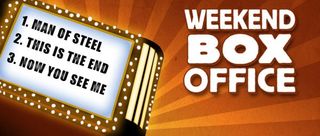 After an incredibly successful marketing campaign that's been generating all the right kinds of excitement for months, Man of Steel finally flew into theaters this weekend, dominating the box office and breaking the record for the highest ever opening in the month of June.
With $113 million, the second attempt at a reboot of the Superman film franchise easily captured the top spot over the weekend, but fell well short of this year's biggest opening: Iron Man 3's $174 million debut. While the DC comic hero couldn't stand up against the Marvel cash cow, he did better than the last debacle of a Superman relaunch. Superman Returns only banked $52 million on its first regular three day weekend back in the summer of 2006.
Opening a little ahead of the weekend, Man of Steel's domestic total now sits at $125 million. While sales are likely to stay solid, the movie has a long way to go and only the slimmest of chances to beat out this year's biggest earner Iron Man 3 which fell just shy of breaking the $400 million mark this weekend.
Bowing in at a respectable second place, rated-R apocalypse comedy (a very niche genre indeed) This is the End took in $20 million. Add in the $12 million it earned during Wednesday and Thursday and you have a nice total to match the movie's reported $32 million budget.
Sofia Coppola's latest offering The Bling Ring got huge attention in the five locations where it debuted, banking $210,000 this weekend for an impressive $42,000 per theater, a best for the writer/director.
For the full weekend top ten, check out the chart below:
1.

Man of Steel *
$113,080,000
Total: $125,080,000
LW: N WR: 1
THTRS: 4,207
2.

This is the End *
$20,500,000
Total: $32,800,000
LW: N WR: 1
THTRS: 3,055
3.

Now You See Me
$10,320,000
Total: $80,009,000
LW: 3 WR: 3
THTRS: 3,082
4.

Fast & Furious 6
$9,433,000
Total: $219,574,000
LW: 2 WR: 4
THTRS: 3,375
5.

The Purge
$8,201,000
Total: $51,845,000
LW: 1 WR: 2
THTRS: 2,591
6.

The Internship
$7,000,000
Total: $30,951,000
LW: 4 WR: 2
THTRS: 3,399
7.

Epic
$6,000,000
Total: $95,429,000
LW: 5 WR: 4
THTRS: 3,151
8.

Star Trek Into Darkness
$5,660,000
Total: $210,491,000
LW: 6 WR: 5
THTRS: 2,331
9.

After Earth
$3,750,000
Total: $54,200,000
LW: 7 WR: 3
THTRS: 2,432
10.

Iron Man 3
$2,908,000
Total: $399,610,000
LW: 9 WR: 7
THTRS: 1,649
Your Daily Blend of Entertainment News
Thank you for signing up to CinemaBlend. You will receive a verification email shortly.
There was a problem. Please refresh the page and try again.