Weekend Box Office - Proposal Uncovers Cash Chemistry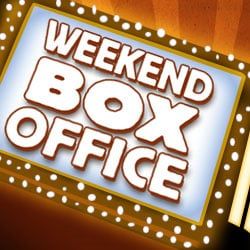 Chemistry is usually marked as something between two actors playing a romantic couple but this weekend Sandra Bullock and Ryan Reynolds managed to create chemistry of a different kind, one that's even more important to an actor's career these days. Mashed together on the screen in The Proposal the two carved out some financial chemistry to the tune of $34 million, an opening neither has managed on their own or with anyone else.
It may be hard to believe but according to records at Box Office Mojo, Bullock has never been in a movie that debuted at more than $20 million (her personal best was $17.6 million in last year's Premonition). Likewise, Reynolds hasn't made his mark for the big bucks. Apart from X-Men Origins: Wolverine (which wasn't exactly a Ryan Reynold's vehicle) his top opening was 2003's remake of Amityville Horror ($23 million).
As icing on the Reynolds/Bullock cash cake, The Proposal was produced for a paltry $40 million making it a near instantaneous profit earner. $34 million doesn't make the film blockbuster material, but for a romantic comedy it's better than most enjoy. I'm sure producers are already smelling sequel all over this thing, or at the very least, future pairings for Ryan and Sandra. Is it too early to call them the next Tom Hanks and Meg Ryan? I'll get a jump on things and start calling them Sanyan now. Hey, it's better than Bullnold.
Year One struggled to get it off the ground from day one, coming in fourth place with $20 million right behind now four weekend old Up. The lesson here seems to be that if Jack Black is going to put on a weird costume and be successful he'd better stick with the spandex and mask.
Woody Allen debuted his latest creation this weekend as well. In very small release Whatever Works made $31,000 on each of its nine screens, the best this weekend. Allen's films traditionally open in small release and don't always make it much wider. No word when or if Whatever Works will get slated for bigger things, but Larry David fans had better hope for the best. He hasn't been seen around since "Curb Your Enthusiasm" wound down in 2007.
1.

The Proposal *
$34,114,000 -
Total: $34,114,000
LW: N WR: 1
THTRS: 3,056
2.

The Hangover
$26,855,000 -
Total: $152,919,000
LW: 1 WR: 3
THTRS: 3,545
3.

Up
$21,336,000 -
Total: $224,113,000
LW: 2 WR: 4
THTRS: 3,832
4.

Year One *
$20,200,000 -
Total: $20,200,000
LW: N WR: 1
THTRS: 3,022
5.

The Taking of Pelham 1 2 3
$11,300,000 -
Total: $43,332,000
LW: 3 WR: 2
THTRS: 3,077
6.

Night at the Museum: Battle of the Smithsonian
$7,300,000 -
Total: $155,953,000
LW: 4 WR: 5
THTRS: 2,962
7.

Star Trek
$4,700,000 -
Total: $239,444,000
LW: 7 WR: 7
THTRS: 2,307
8.

Land of the Lost
$3,976,000 -
Total: $43,672,000
LW: 5 WR: 3
THTRS: 2,945
9.

Imagine That
$3,100,000 -
Total: $11,351,000
LW: 6 WR: 2
THTRS: 3,011
10.

Terminator Salvation
$3,070,000 -
Total: $119,513,000
LW: 8 WR: 5
THTRS: 1,920
Your Daily Blend of Entertainment News
Thank you for signing up to CinemaBlend. You will receive a verification email shortly.
There was a problem. Please refresh the page and try again.