Weekend Box Office: Riddick Takes Number One, Topping Everyone Except Himself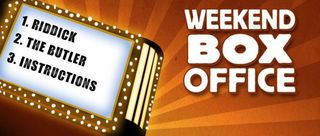 As the only new movie in theaters it was expected that Vin Diesel's Riddick would take the top spot, but number one was no box office coup for the sci-fi antihero as ticket sales suggest he may have been better off without another sequel.
The third live-action entry in the Riddick franchise (most people never knew about the animated short movie and it's probably better that way) didn't hold up against its predecessor. The Chronicles of Riddick opened with $24 million when it hit screens back in 2004. Now, almost ten years later, Riddick only banked $18 million. It's no financial disaster (the movie came in on a very modest $38 million budget) but it's not exactly a ringing endorsement either.
Last weekend's surprise contender, foreign film Instructions Not Included, saw its release size doubled to 700+ theaters this weekend and with that came a boost in sales and rank. With a small bump to $8.1 million, the movie had the highest per theater take in the top ten and snuck into the top three, just edging out We're The Millers.
For the full weekend top ten, check out the chart below:
1.
Riddick

$18,673,000Total: $18,673,000LW: N
THTRS: 3,107
2.
Lee Daniels' The Butler

$8,900,000Total: $91,901,000LW: 2
THTRS: 3,330
3.

Instructions Not Included
$8,100,000
Total: $20,312,000
LW: 4
THTRS: 717
4.
We're the Millers

$7,925,000Total: $123,844,000LW: 3
THTRS: 3,445
5.
Planes

$4,274,000Total: $79,279,000LW: 5
THTRS: 3,033
6.
One Direction: This is Us

$4,100,000Total: $23,991,000LW: 1
THTRS: 2,735
7.
Elysium

$3,100,000Total: $85,077,000LW: 6
THTRS: 2,241
8.
Blue Jasmine

$2,688,000Total: $25,449,000LW: 12
THTRS: 1,069
9.
Percy Jackson: Sea of Monsters

$2,500,000Total: $59,848,000LW: 10
THTRS: 2,045
10.
The World's End

$2,302,000Total: $21,737,000LW: 8
THTRS: 1,520
Your Daily Blend of Entertainment News
Thank you for signing up to CinemaBlend. You will receive a verification email shortly.
There was a problem. Please refresh the page and try again.