Weekend Box Office: Transformers: Age Of Extinction Lands Biggest Opening Of 2014 So Far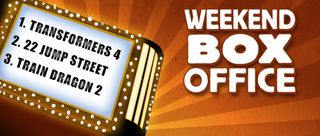 There was only one new entry into the summer fray this weekend, and without much surprise Transformers: Age of Extinction was not only panned by critics, it was number one. Estimates have the movie standing at exactly $100 million, a dubious number that probably means Paramount's hoping for the best, but when the actual numbers roll in it won't quite be that high. Just the same it's the highest opening of the year so far in a year where opening weekends for blockbuster movies aren't as impressive as they've been in the recent past.
It's hard to say how this Transformers movie stacks up against others in the franchise since it's the first one to ever actually open on a Friday. Other entries have opened on Mondays and Wednesdays making their "opening weekend" numbers a little lower than usual. Once Age of Extinction hits the ten day mark, a more meaningful comparison can be made. Until then, a high turn out from international audiences helped the movie to a $300+ million mark so far world wide, proving yet again that it doesn't matter if the plot's terrible and the dialogue is laughable, people will turn over their money hand over fist if Michael Bay is showing giant robots blowing things up.
22 Jump Street and How To Train Your Dragon 2 held their respective second and third place spots, forcing last weekend's top dog Think Like A Man Too into fourth place. Dropping over 60% from last week, the comedy has $48 million in domestic sales to date and isn't holding up compared to its predecessor, unlikely to catch up to that movie's $91 million domestic total.
The Amazing Spider-man 2 finally inched its way past the $200 million mark, saving it from being pegged as the only movie in the character's franchises not to clear that hurdle. Despite that small success, it's still the lowest domestic and international grossing film among the five in the franchises. Still, $700 million world wide is enough of a success to keep Sony interested in cranking out the sequels and plans for a fourth Amazing Spider-man entry remain on the table (the third is due out in 2016).
For the full weekend top ten, check out the chart below:
1.
Transformers: Age of Extinction *

$100,000,000Total: $100,000,000LW: N
THTRS: 4,233
2.
22 Jump Street

$15,400,000Total: $139,837,000LW: 2
THTRS: 3,426
3.
How to Train Your Dragon 2

$13,100,000Total: $121,815,000LW: 3
THTRS: 3,750
4.

Think Like a Man Too
$10,400,000
Total: $48,168,000
LW: 1
THTRS: 2,225
5.
Maleficent

$8,237,000Total: $201,871,000LW: 5
THTRS: 3,073
6.
Jersey Boys

$7,610,000Total: $27,342,000LW: 4
THTRS: 2,905
7.
Edge of Tomorrow

$5,210,000Total: $84,155,000LW: 6
THTRS: 2,535
8.
The Fault in our Stars

$4,800,000Total: $109,545,000LW: 7
THTRS: 2,845
9.
X-Men: Days of Future Past

$3,300,000Total: $223,393,000LW: 8
THTRS: 2,014
10.
Chef

$1,654,000Total: $19,410,000LW: 10
THTRS: 801
Your Daily Blend of Entertainment News
Thank you for signing up to CinemaBlend. You will receive a verification email shortly.
There was a problem. Please refresh the page and try again.