The Weird Moment John Cho Realized He Was Famous After American Pie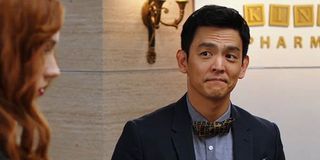 It must be weird going from an actor taking bit roles, busting your hump to "make it," and then crossing into the zone where you're known. Where people on the street recognize you. Know your name. Or at the very least the roles you've played. Over the years, John Cho's been called Harold and Sulu... but he's also been called to with a more confounding title.
In an effort to promote his new television series Selfie, John Cho took to Reddit's AMA where he shared the strange moment when he realized he was famous. Asked what was the first time someone on the street recognized him, Cho reached back to the days just after American Pie had become a phenomenon:
You can check out John Cho's big MILF moment below. It's uncensored and so NSFW.
Of course, that wasn't the end of the actor's run with the sex comedy franchise. Cho's character proved memorable enough to reappear in American Pie 2, where he played a part in an accidental golden shower scene.
After lusting after Stiffler's mom, then letting loose on the Stiffmeister himself, his character returned for American Reunion. Here's a series of outtakes featuring John Cho. Also NSFW. The sheer variety of reads he can give to one insulting line, is pretty incredible:
Most recently, though, Cho had some fun with his American Pie past in the Starz show Hollywood Residential. Check out that bit of self-mockery below:
Selfie airs on ABC on Tuesday nights, and John Cho will soon get back to work playing Hikaru Sulu in Bob Orci's Star Trek 3 - which is being prepped for release some time in 2016
Your Daily Blend of Entertainment News
Staff writer at CinemaBlend.
Your Daily Blend of Entertainment News
Thank you for signing up to CinemaBlend. You will receive a verification email shortly.
There was a problem. Please refresh the page and try again.