The Helpful Advice George Takei Gave John Cho Before Making Star Trek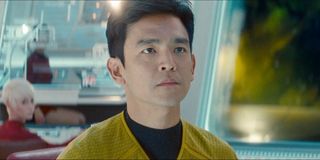 It's always a challenge taking on an iconic role when it has been played to near perfection by a different actor. That original characterization burns a place in pop culture, and the new person is trying to change it, to reshape it, and to make it his or her own. So when John Cho was preparing to play Sulu in J.J. Abrams' retooled Star Trek back in 2009, he picked the brain of George Takei – the only person who truly knew what it was like to play Sulu – and received this very specific advice.
John Cho opened up about their conversations during his recent Reddit AMA, admitting that George Takei approved of Cho's casting in the role, and even put a good word in with Abrams. "It meant the world to me that he approved of my casting," Cho told the site. Then, during a lunch meeting, Cho elaborated:
This sparked an interesting debate underneath Cho's answer on the Reddit AMA about how that element of the original TV series is lacking from Abrams' two Star Trek movies. Some claimed the point of Star Trek Into Darkness was pro-exploration and anti-military. Others claimed that, similar to Wrath of Khan, the Abrams Trek movies are driven more by violence and "action" over intelligent thought.
That could be due to Abrams. It could be due to Star Trek co-screenwriters Alex Kurtzman and Bob Orci. Seeing as how Orci will be in the director's chair for Star Trek 3, this might worry die-hard Trek fans hoping for a return to form. John Cho tries to ease their concerns:
Right after, though, Cho admitted, "I don't know anything about Star Trek 3." And yet, he confirmed that he recently went in for a costume fitting. So, believe what you will.
John Cho has worked hard to establish Sulu as an integral component on the rebooted Star Trek timeline. He has been an action hero in the 2009 installment, and briefly assumed the captain's chair in Into Darkness (as shown above). We're excited to see what Sulu can do in Star Trek 3, and we hope that Cho never forgets the peaceful advice George Takei passed along years ago.
Movie junkie. Infatuated with comic-book films. ReelBlend cohost. Resident dad. Extroverted introvert. Wants to see the Snyder Cut. Managing Director at CinemaBlend.