The Weird Reason Why Interstellar Might Screw Jessica Chastain Out Of An Oscar Nom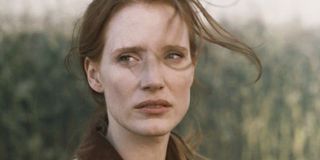 Since she burst on the scene in 2011, Jessica Chastain has been a gem in the crown of just about every movie she's been in, whether charming on the junket circuit, dazzling on the red carpet, or offering the kind of performances that breed Oscar buzz. But her latest release wants to keep her all to themselves, choking out the Oscar chances of an upcoming indie.
The New York Times revealed Jessica Chastain's contract for Interstellar demands that she only promote that movie from early October through early December. For some actresses, this might not be an issue at all, but as Chastain also stars in J.C. Chandor's A Most Violent Year, a kerfuffle is brewing that could hurt Chastain come Oscar season. The celebrated actress was allowed a special dispensation to walk the red carpet at A Most Violent Year's Hollywood premiere on Thursday night, but she declined to address this matter, explaining, "I never comment about my contracts or my salary."
A Most Violent Year will be J.C. Chandor's follow-up to his critically acclaimed drama All Is Lost. The film is opening in the U.S. on December 31st. This date does two things. First, it qualifies the mafia-centric crime-drama for the 2015 Academy Awards. Secondly, it steers as far as possible away from Chastain's Interstellar blackout date to best allow for Chastain's inclusion on its award season push. But don't be fooled: Interstellar director Christopher Nolan just dealt A Most Violent Year a crushing blow. While the film also stars Oscar Isaac and David Oyelowo, Chastain is by far its most recognizable and alluring asset.
Nolan isn't just endangering A Most Violent Year's successes at the box office, but also its awards season prospects. A major part of a performer campaigning for nominations is attending private promotional functions for the film(s) they have been in. J.C. Chandor and A Most Violent Year's distributor were under the impression that Chastain would at least be allowed to attend these. Well, Nolan is insisting even these private events would break Chastain's Interstellar contract. So, again, he's hurting A Most Violent Year, but also Chastain herself -- who could potentially earn award nominations for her portrayal of the drama's mob princess.
Jessica Chastain has established a history of being able to promote multiple films a year. In 2011, she did so with Take Shelter, Coriolanus, The Tree of Life and The Help, which scored her first Oscar nomination. 2012 brought Madagascar 3, Lawless, Zero Dark Thirty and her second Oscar nod. And this year, she sees the release of The Disappearance of Eleanor Rigby: Them, Miss Julie, Interstellar and A Most Violent Year. But If Nolan has his way, we'll all only be focusing on Interstellar.
J.C. Chandor and A24 are said to be seeking a waiver to allow Chastain to campaign for award season on behalf of A Most Violent Year. But it's not looking good.
Your Daily Blend of Entertainment News
Staff writer at CinemaBlend.