The Weird Story Of How Tom Cruise Convinced Jeremy Renner To Do Mission: Impossible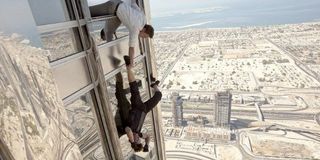 Jeremy Renner has, almost by accident, turned into a bit of a franchise slut. Not only does he play Hawkeye in Marvel's The Avengers, but he also took over from Matt Damon as the lead in The Bourne Legacy, appeared as the titular male star in 2013's Hansel & Gretel: Witch Hunters, and is now part of the Mission: Impossible ensemble thanks to his turn as William Brandt opposite Tom Cruise's Ethan Hunt in 2011's Ghost Protocol.
That's quite a lot characters and work for an actor to keep track of, and during a rather frank and turbulent discussion with MTV, Renner went to great lengths to describe how his life got so cluttered. Apparently, we can blame Tom Cruise's persistence.
Renner put pen to paper on his deal to appear as Hawkeye "a good year" before filming was due to start on The Avengers. So as a result of trying to find different projects that could fill up his time before his work on the superhero epic needed to begin, he found himself in a room with Mission: Impossible III's writer and director, JJ Abrams. Abrams was looking for an actor to play Joe's father in Super 8, and he believed that Renner would be perfect for the part.
Renner didn't. But as he read through the script and tried to figure out how he could tell the filmmaker that the part just wasn't right for him, Abrams interrupted Renner and asked him for his thoughts on the Mission: Impossible series. Slightly aghast, but intrigued, Renner declared that they were "fun" and that "Tom's great in them". Based on that endorsement, Renner was told to drive to Paramount to meet Cruise, who almost immediately started hard selling him on the franchise. Eventually, Renner asked for time to think about it. A few minutes after he arrived at home, his phone rang. It was Tom Cruise, hard selling him again. He ultimately caved in, and signed a 3-movie deal to appear as Brandt, which began with Ghost Protocol.
Renner's world became a lot more complicated when Gemma Arterton was cast as Gretel in Hansel & Gretel: Witch Hunters, which meant that production on the horror-action extravaganza could start shooting immediately. Then he was offered the Bourne trilogy. Then Avengers went into production, and pretty soon, he was everywhere.
Your Daily Blend of Entertainment News
Thank you for signing up to CinemaBlend. You will receive a verification email shortly.
There was a problem. Please refresh the page and try again.