Jeremy Renner For Hansel And Gretel: Witch Hunters 2? Here Is His Answer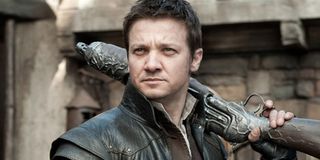 Critics largely loathed it. Audiences didn't initially know what to make of it. But despite being dropped in the dead zone that is January and left to rot, Hansel & Gretel: Witch Hunters found a following that took the R-rated fairy tale to a respectable $220 million worldwide. A sequel is promised, but we're still waiting on word that it's a go. And it seems that might all hinge on Jeremy Renner, a man of many, many movie franchises.
Today I sat down with Jeremy Renner, who is currently involved in franchises spawned from The Avengers, The Bourne Identity, and Mission: Impossible. After talking about his upcoming political thriller Kill The Messenger, I asked this insanely busy star about the prospect of him returning to Hansel & Grete:l Witch Hunters for its sequel.
CB: Are you signed on to Hansel & Gretel: Witch Hunters 2?
Jeremy Renner: Not that I'm aware of, no. I know they're going to make one. I know they're writing a script. And that's when they will probably engage with any talent.
News just came out, Tommy Wirkola says he has turned the script into Paramount.
(Surprised) Ah.
But he's mentioned that your availability might be an obstacle to the film getting made.
It's always an obstacle at this point. It's good to be busy, right? (Laughs heartily.)
Yeah, you have how many other franchises going at this point?
It's good to be busy. Yeah that movie ended up playing very well across the world. That was pretty awesome. I only heard that they were going to make another one. But that's all that I know. I'm not sure what they--
They haven't contacted you yet?
Yeah (they have not), and it's ultimately going to come down to--I know they have a release date and they really want to get it out there--but I have to have the time. I'm only one man, right? And then also Gemma's availability. It'll come down to availability I'm sure.
But would you be game to go back?
I don't have any problem with it. Yeah. It was a lot of fun. It was fun to do that movie, and just have a ball.
This comes on the heels of the Shock Till You Drop report out of Fantastic Fest that Hansel & Gretel: With Hunters writer/director Tommy Wirkola had turned over his script to Paramount for greenlight consideration. The Norwegian filmmaker who is currently promoting his Dead Snow 2, said Paramount seemed to like the script. However he confessed:
As a vocal defender of the gleefully goofy and gory Hansel & Gretel: Witch Hunters, I'll be holding out hope that Paramount can find a window in Renner's schedule for more witch hunting.
You'll next be able to see Jeremy Renner on the big screen in Kill The Messenger, which opens October 10th.
Your Daily Blend of Entertainment News
Staff writer at CinemaBlend.