Wesley Snipes's Comeback Will Begin Before He Even Gets Out Of Jail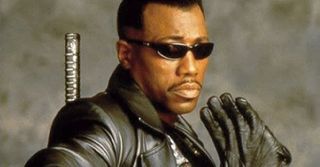 For years the most interesting role Wesley Snipes has played has not been onscreen, but in his ongoing legal problems, which started in 2006 when he was charged with tax fraud. After years of fighting the charge-- and at one point trying to claim he was a non-resident alien of the U.S.-- Snipes was sentenced to a three-year prison term, and has been cooling his heels at the McKean Federal Correction Institution ever since.
But on July 19 this year, Snipes gets released, and he plans to waste no time in getting back to the acting career that last included 2010's Game of Death. At this year's European Film Market in Berlin, Snipes will be the central selling point of Gallowwalkers, a film project being shopped by VMI Worldwide. The film actually went into production right when Snipes was charged with tax fraud, way back in 2006, and it's hard to read into just what has kept the film away for so long. Maybe they need to go back in for reshoots and had to wait until Snipes was out of jail. Maybe they didn't want to sell the movie until his legal storm had blown over. Maybe they just need him out of jail to help promote it-- although as the market kicks off in February, Snipes will indeed still be at McKean.
If you want to see Snipes back in intense form, though, Gallowalkers is a damn good place to start. Here's the plot synopsis:
Does this sound crazy enough to make up for the fact that it's been delayed for 7 years? Will you see anything so long as it gets Wesley Snipes back onscreen? Let us know in the comments below.
Your Daily Blend of Entertainment News
Staff Writer at CinemaBlend
Your Daily Blend of Entertainment News
Thank you for signing up to CinemaBlend. You will receive a verification email shortly.
There was a problem. Please refresh the page and try again.