Wesley Snipes To Play The Game Of Death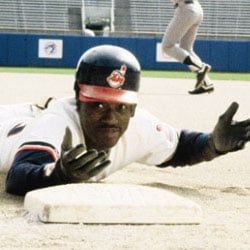 Apparently Wesley Snipes is still an actor. You could have fooled me. I'm one of those dudes that thinks he should've stuck with what he was good at and stayed on board for all of the Major League sequels. He just made so much sense as Willie Mays Hayes. Yeah, sure, the Blade movies were okay, but it's the playoffs, and the Major League franchise deserves some credit.
Unfortunately, Snipes will not be a baseball player in his next movie role. Instead, according to
[[ ahref http article www.variety.com ]] Variety, he'll be teaming back up with director Abel Ferrara, the guy who directed Snipes in King of New York, to star in Game of Death. The film has Snipes playing a politician's bodyguard, who must protect his client from five of the world's top assassins. No, seriously. That's the plot. The movie will co-star Zoe Bell and Robert Davi.
One would assume that this is a return to form for Snipes, working with a director from his heyday, but Ferrara hasn't done much at all since King of New York either. So instead of a fruitful reunion, we're getting two dudes who don't have many other options, other than each other. I'll be Netflixing Major League instead.
Your Daily Blend of Entertainment News