What To Expect From Doctor Strange, According To Benedict Cumberbatch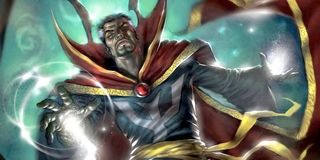 We're pretty big comic book movie devotees around these parts, and one of the movies we're most excited to see coming up is Doctor Strange. We can't wait to see how Marvel introduces the Sorcerer Supreme into the MCU, bringing both a powerful new player to the party and injecting an element of the mystical into the equation. And if star Benedict Cumberbatch is to be believed, we're in for something very special and unique.
Since his first appearance in 1963, the story of Stephen Strange, created by comic legends Stan Lee and Steven Ditko, set itself apart thanks to stunning psychedelic imagery. Entertainment Weekly has a ton of new Doctor Strange coverage, and when they caught up with Cumberbatch, he touched on this subject, saying:
That's certainly refreshing and exciting to hear. But the star isn't the only one excited about what Doctor Strange is bringing to the table aesthetically. Director Scott Derrickson added his own two cents, saying:
As you probably imagined, no one revealed any specifics about the special effects, but when discussing the sequence where Strange meets his mystical mentor the Ancient One, played by Tilda Swinton, which also introduces the various dimensions that comprise the multiverse, they affectionately call it "The Magical Mystery Tour." That certainly sounds promising.
Fans of the comics should be stoked that they're trying to maintain that distinctive element of the source material, and if they follow all of this, Doctor Strange should be something quite different than we're used to in the MCU. We're curious to find out if Strange's magic is just that, something mystical and unexplainable, or if the film will try to ground it and give it definition. We hope that they stick with something less concrete and that they inject a bit of magic into the Marvel film universe.
The plot follows Stephen Strange on a healing journey after a car accident crushes his hands and ruins his promising career as a neurosurgeon. He travels across the world and eventually meets the Ancient One and, after training, becomes the new Sorcerer Supreme, a position that pits him against a number of foes, including Chiwetel Ejiofor's Baron Mordo and Mads Mikkelsen's as yet unnamed primary antagonist. We don't know a ton about the latter of these threats just yet, but he promises to be a formidable foe indeed.
Doctor Strange hits theaters in less than a year, opening on November 4, 2016, and you can bet we'll be seeing much more in the interim.
Your Daily Blend of Entertainment News
Thank you for signing up to CinemaBlend. You will receive a verification email shortly.
There was a problem. Please refresh the page and try again.