Doctor Strange Adds Badass Martial Artist To Its Cast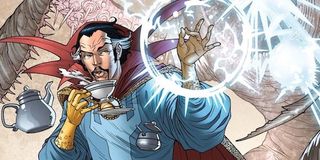 Looking at the cast of the upcoming Doctor Strange, it's already one of the best, if not the most impressive assemblage of actors that Marvel has ever put together — it looks more like the credits for an Oscar-bait drama than a superhero adventure. Even though filming has started, they're not done adding pieces just yet, and they just upped the badass factor quite a bit by bringing ass-kicking martial artist Scott Adkins on board.
Doctor Strange may be about a former surgeon turned spell-casting mystic, but that doesn't mean there's no room for some good old fashioned hand-to-hand combat. Though it's not official, a source close to The Wrap says that Adkins has indeed joined the picture. His role has not been disclosed just yet, but rest assured, it likely involves pummeling the holy hell out of people in spectacular fashion.
Adkins is one of the premiere movie martial artists currently working today, and is one of a handful of guys who have picked up the mantle of forbearers like Jean-Claude Van Damme, Steven Seagal, and Chuck Norris. He largely stars in movies that are throwbacks to a style of action that saw its heyday in the 1980s, the kind of action flicks without big budgets and CGI that don't usually get wide releases (The Expendables movies are an exception, but they trade heavily on nostalgia).
As a result of the kinds of movies he champions, most of Adkins films hit the direct-to-video market, but he does occasionally show up at your local metroplex. Though starring roles in the likes of Undisputed 2 and 3, Ninja 2, and Universal Soldier: Day of Reckoning are the highlights, he often lands smaller parts in bigger movies. He's shown up in The Bourne Ultimatum, X-Men Origins: Wolverine, and The Legend of Hercules, though he's mostly there to lend a physical flair to the fight scenes, which is his strength.
Scott Adkins joins a cast that already features Benedict Cumberbatch as the titular Sorcerer Supreme, former surgeon Stephen Strange. When his hands are injured in a car crash, and even surgeries from Nicodemus West (Michael Stuhlbarg) can't fix them, he turns to magic, which leads him to seek out the Ancient One (Tilda Swinton) in Nepal. Along the way, Strange will also tangle with the nefarious Baron Mordo (Chiwetel Ejiofor), encounter Rachel McAdams (who may be playing Night Nurse), meet Amy Landecker's mystery character, and, if he ever officially signs up, hang out with Mads Mikkelsen in some capacity. Whoever Adkins winds up playing, it will definitely be fun to see him thrown into this mix.
Doctor Strange is currently filming in Nepal and is scheduled to hit theaters on November 4, 2016.
Your Daily Blend of Entertainment News
Thank you for signing up to CinemaBlend. You will receive a verification email shortly.
There was a problem. Please refresh the page and try again.