Two Jerry Maguire Fans Are Trying To Pull Off An Impossible Mission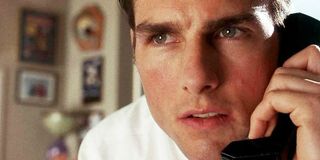 How much do you love Jerry Maguire? I'm going to guess that rather than insisting it's one of your favorite films ever made, you're simply happy to be reminded of a virtuoso Tom Cruise performance and a witty if slightly over schmaltzy Cameron Crowe script. But two Jerry Maguire fans have found a unique way to showcase their adulation for the 1996 rom-com. They want to build a pyramid in a Californian desert using every single VHS tape ever printed of the film. Seriously.
The brains behind this rather unique operation are Nick Moore and Dimitri Simakis, who run the website and collective Everything Is Terrible. This team, which is obviously diametrically opposed to everything The LEGO Movie has ever taught us, re-edit clips from VHS tapes for online content and live performances.
But back in 2008 they set out on a mission that even Tom Cruise's Ethan Hunt from the Mission Impossible franchise would balk at: they want to acquire every single VHS tape of Jerry Maguire that they can get their hands on. Don't know what Jerry Maguire is? Then check out this helpful, and amazingly 90s, trailer for the much-loved, but still impressively average, film:
What started out as a little joke at their show has now blossomed into a fully-fledged mission in the eyes of Everything Is Terrible's posse.
Recently they surpassed the 10,000 VHS mark, and now Moore has told Yahoo that when they reach 18,000 they will go all out to celebrate their achievement. And how will they do just that? Well, they are going to purchase land near Joshua Tree in the Californian desert, which they will then use to build a gigantic pyramid with the 18,000 VHS tapes. But it won't just be a pyramid. Oh no. Moore and Simakis are also planning on including a tunnel and a well in the pyramid so that fans can deposit even more tapes.
But how did this peculiar project get started? Well, after traveling around a variety of thrift stores, Moore noticed that there were dozens upon dozens of Jerry Maguire video tapes just sitting around. Moore decided to give them a home by purchasing 100 copies of them. He originally decided to hand them out at one of their live shows as prizes. But then had a change of heart because they were simply "too beautiful."
This then inspired them to seek out even more VHS tapes, and they soon started to receive hundreds of copies at shows. In fact, the donations have become so severe that they have their own team to keep track of them. One man by the name of Alex McNeely has even donated 1,157 tapes.
But their biggest push came after Jerry Maguire's writer and director Cameron Crowe endorsed the project, and they're now crossing their fingers and toes that Tom Cruise will learn about it and throw his weight behind it. And Nick Moore couldn't be happier that Jerry Maguire is the film that has provoked such a reaction. Because rather than being a firm fan favorite that is beloved by cinephiles, he loves it because it's just so average. Probably best not to tell Cameron Crowe that though.
Fancy helping out Nick Moore and the Everything Is Terrible team? Then you can send your copies to:
Everything is Terrible! P.O. Box 50825 Los Angeles, CA 90050 USA
While they're also planning on going out on tour in October, so you can pop your copies straight into their hands if they're appearing anywhere near you.
Your Daily Blend of Entertainment News
Thank you for signing up to CinemaBlend. You will receive a verification email shortly.
There was a problem. Please refresh the page and try again.