What Kong: Skull Island Actually Will Be About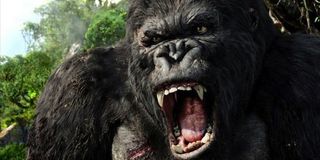 To some degree at least, we've always known what the plot of Kong: Skull Island entails. Obviously, it involves a giant ape wrecking things and causing a general ruckus. Aside from that, however, there hasn't been too much substantial to report in the way of specifics, but now things are starting to come into clearer focus.
A report from Deadline about how Skull Island has added yet another fantastic cast member, John Goodman this time, who makes everything he touches better, also includes some new plot details. The story follows a man who travels to a mystical island that just so happens to be the home of the King of the Apes.
This man, played by Tom Hiddleston, reportedly embarks on this journey after his brother becomes stranded there while on a quest to find a mythical serum that is supposedly the cure for all diseases and illnesses. That would, admittedly, be rather handy to have. John Goodman reportedly plays a character named Randa, a government official who leads this expedition, or perhaps another party, it's not entirely clear. What is clear, however, is that these explorers will have to contend with all manner of strange and dangerous creatures that live on the island, and that should be an exciting time.
These are rather vague details, and we already figured that the story involved a group of people going to the island of the title, but this does shed a bit of light on the character motivations, on the hows and whys of the situation. And while Hiddleston's reasons seem pure, I'm willing to bet that Randa's motives are a little less altruistic in nature and that he wants to get his hands on that serum and make a tidy profit. At one point, Hiddleston did say that his character is "heroic."
The report also says the story will "honor the King Kong lore but in a different time period." Traditionally, King Kong movies have been set early in the 20th century, like the 1930s. What we've heard of Skull Island, however, transports the action in the 1970s and at least partially in Detroit. There's been talk of the franchise eventually crossing paths with the rebooted Godzilla series down the road, but with this timeline—the new King of the Monsters is set in the present day— we're curious how that might happen, but we're willing to give it a shot.
Though there were a couple of big name departures—both Michael Keaton and J.K. Simmons left the film due to scheduling conflicts—they have managed to construct a fantastic cast. In addition to Tom Hiddleston and John Goodman, the film will also feature Brie Larson, Samuel L. Jackson, John C. Reilly, Jason Mitchell, Corey Hawkins, Toby Kebell, and Tom Wilkinson. That's not half bad.
Directed by Jordan Vogt-Roberts (Kings of Summer) and working from a script by John Gatins and Max Borenstein (Godzilla, so there's some giant monster pedigree here), Kong: Skull Island will begin filming this fall, with an eye on a March 10, 2017 release date.
Your Daily Blend of Entertainment News