What Lisbeth Salander And More Book Characters Would Really Look Like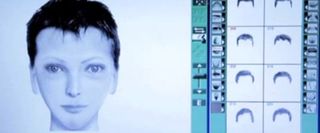 Every time a novel gets its turn at a movie adaptation, casting reports inevitably cause a massive outcry from devoted fans who declare this actor or that actress looks nothing like their imagined and adored literary hero. Well, Brian Joseph Davis, writer and co-founder of the online literary magazine Joyland, chose to explore the divide between what we imagine and what's on the page with his intriguing blog The Composites. Here he uses composite sketch software created for identifying crime suspects to render a detailed image of a wide-array of literary figures, from Sam Spade to Madam Bovary and Lisbeth Salander.
BBC recently spoke with Davis about his curious crime-kit quest, and in the video—found at the link--he shares not only his deductive/creative process, but also some of the images that have caused the most outrage amongst readers, like his frightfully un-Fassbender like sketch of Mr. Rochester from Jane Eyre!
Of course there's still a fair amount of subjectivity inherent in Davis's approach, but I have to admit it is eerie to see someone else's idea of these characters so fully realized. Like, who would of thought that Tess of Tess of the d'Ubervilles would so closely resemble Lady Sybil from Downton Abbey?
Or that Kevin of We Need to Talk About Kevin would look less like his creepy cinematic counterpart, played with frightful intensity by Ezra Miller, and more like the Oklahoma City bomber, Timothy McVeigh?
And while I never much cared for Mia Farrow as Daisy Buchanan in the 1974 adaptation of The Great Gatsby, it seems director Jack Clayton was dead-on with the physical casting there.
For his part, Davis sees the overwhelming response to his site as proof that despite the downfall of printed publications, love of literature is still going strong. He tells BBC:
Davis also takes suggestions for future composites. Visit his site to pitch yours.
Staff writer at CinemaBlend.
Your Daily Blend of Entertainment News
Thank you for signing up to CinemaBlend. You will receive a verification email shortly.
There was a problem. Please refresh the page and try again.