What Needs To Happen For Cloverfield 2, According To Those Involved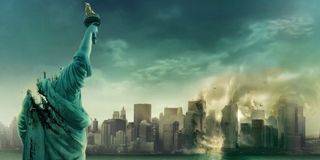 It's been seven years since Cloverfield wowed audiences with its rough and tumble camera approach and reel after reel of devastation. And while some of you might think that too much time has passed for a sequel to be made, its writer Drew Goddard isn't adverse to such a film. However, he insists that if it was to made, it needs to be on their terms, and in the right spirit.
Speaking to MTV at the Toronto International Film Festival, where Goddard is in attendance to help promote The Martian, which he wrote, he was asked about the chances of a Cloverfield 2. And while his passion for the franchise was clear, his respect for it was just as prevalent, which is why they're proceeding almost a little bit too cautiously. Goddard explained:
And while Goddard's sentiment that everything doesn't need to be a franchise is cute, it's also one that I'm sure Hollywood executives would wholly disagree with. In fact, just after Cloverfield turned its relatively low $25 million budget into the worldwide box office sum of $170.8 million, Paramount Pictures and Bad Robot Productions would have immediately pined for a follow-up.
Previously, Cloverfield director Matt Reeves admitted that he was seriously intrigued about making a Cloverfield 2. In fact, he believed that they could have focused on the same alien invasion of New York, but just from a different perspective. Speaking to Coming Soon.net all the way back in January 2008, Reeves pointed out that a particular scene on the Brooklyn Bridge, which saw Hud's (T.J. Miller) camera capture another guy filming the tragedy, had inspired him. Remember this scene?
However, as the years have rolled on, Cloverfield 2 seems to have been put on the back-burner by everyone involved. Drew Goddard followed up writing and directing the excellent The Cabin In The Woods by writing World War Z and The Martian, as well as scribing TV's Daredevil.
Meanwhile, Matt Reeves is now a firm part of the rebooted Planet Of The Apes franchise, having directed Dawn Of The Planet Of The Apes, while he's currently working on War Of The Planet Of The Apes. J.J. Abrams appears to have fallen off the face of the earth though, and he's absolutely, 100%, not working on anything that every single cinephile in the world is pant-wettingly excited for. Honest.
Your Daily Blend of Entertainment News