What Sacha Baron Cohen Misses About Shooting Mockumentaries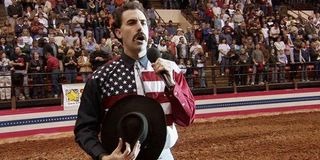 Sacha Baron Cohen captured our hearts by fooling people through his use of mockumentary and making us laugh riotously. First on television as Ali G, Borat, and Bruno, and then when he brought the latter two characters to the big-screen. His latest, The Brothers Grimsby, follows 2012's The Dictator by forsaking the mockumentary genre for a comedy narrative. And Cohen admitted that he actually misses filming in this style, explaining that the adrenaline rush he got while shooting these scenes can't be replicated.
Sacha Baron Cohen made this admission to me when I sat down to talk with him about The Brothers Grimsby. If you're so inclined, you can even head down to the bottom of the page to see a clip of my discussion with the British rapscallion. While chatting about The Brothers Grimsby, I asked him if he missed anything in particular about how he used to shoot the mockumentaries, to which he responded:
So dangerous, in fact, that Sacha Baron Cohen and 20th Century Fox received dozens upon dozens of lawsuits from the participants in both Bruno and Borat, who, although they agreed to be involved, soon realized that they were in way over their heads.
There's an argument to be made that the moviegoing community misses Sacha Baron Cohen making mockumentaries too. 2006's Borat: Cultural Learnings Of America For Make Benefit Glorious Nation Of Kazakhstan has 92% on Rotten Tomatoes and 2009's Bruno has 68%, while 2012's The Dictator has 57% and The Brothers Grimsby currently only has 49%. You can read more on The Brothers Grimsby by heading over to my review here.
Unfortunately, because of the huge popularity of Borat and Bruno, which grossed just under $400 million, combined, at the box office, it's now basically become impossible for Sacha Baron Cohen to film in a mockumentary style though. He's simply become too famous and recognizable.
Want to see that video of me talking to Sacha Baron Cohen now? Of course you do. Check it out below.
The Brothers Grimsby will be in cinemas starting tomorrow. If you're in to laugh-out-loud and outrageous humor then you should definitely go and give it a watch. Even if its action scenes and plot are laughable.
Your Daily Blend of Entertainment News
Thank you for signing up to CinemaBlend. You will receive a verification email shortly.
There was a problem. Please refresh the page and try again.