How Sacha Baron Cohen Topped His Naked Borat Fight Scene For The Brothers Grimsby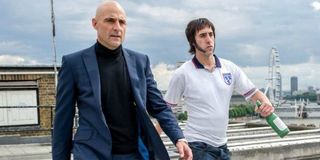 Sacha Baron Cohen has made a career out of creating anarchic comedy scenarios that make audiences howl with laughter while feverishly looking away. His latest cinematic jaunt, The Brothers Grimsby, is no different, and it arguably features the comedian's most controversial and disgusting scene to date.
Warning: There are some slight SPOILERS for The Brothers Grimsby ahead. I don't go into specifics, but don't read on if you want to watch The Brothers Grimsby with absolutely no prior knowledge of its most riotous scene.
Are they gone? Good. So in The Brothers Grimsby Sacha Baron Cohen's Norman "Nobby" Butcher and his long-lost brother, Agent Sebastian Butcher (Mark Strong), have a particular scene with an elephant that means you'll never watch Dumbo the same way again. On Tuesday, I sat down with Sacha Baron Cohen to talk about the sequence, and he explained to me that the whole idea was to try and top and outdo his favorite sequence from Borat, which saw him having a naked tussle with Ken Davitian's Azamat Bagatov. As Cohen told me:
But this wasn't just a simple case of writing down a funny sequence and then the hard work was done. Because Sacha Baron Cohen then went into detail about how they basically built the rest of The Brothers Grimsby's tone and cinematic pedigree around this elephant sequence. Which is something they accomplished by turning to the medium's finest creative individuals for help.
But as a bona-fide dramatic actor dipping his toe into the comedic genre, how did Mark Strong feel about this sequence? Well, when I spoke to Mark Strong over the phone last week, I asked him about his thoughts when he first read the scene in the script, and how they actually shot it. And, it turns out, Mark Strong and Sacha Baron Cohen had to stay very close to one another for quite a few days to get the sequence just right.
You can check out a clip of myself speaking to Sacha Baron Cohen about The Brothers Grimsby's most memorable moment, below:
And you don't have long to wait to see what all the fuss is about. Because The Brothers Grimsby will be released this coming Friday. Just prepare to be shocked, disgusted and bent double with laughter, all at the same time.
Your Daily Blend of Entertainment News