Whiplash May Join The Hells Angels For Tony Scott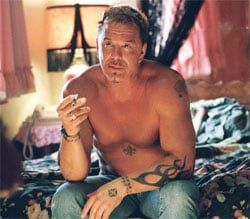 Mickey Rourke, like just about everyone in the film, is fantastic in Iron Man 2. If there's any complaint at all with his Ivan Vanko character it's only that Favreau doesn't give us enough of him. For Rourke, it's his most high-profile movie role ever, and to no one's surprise it's already translating into further opportunities. He's lined up parts in both of director Tony Scott's upcoming films.
Deadline says that in Potzdamer Potts he could end up acting opposite Jason Statham in a movie about two soldiers in a Jersey crime family trying to go international. In Scott's Hell's Angels he'd play Sonny Barger, the tough guy responsible for taking the infamous biker gang and turning it into a national organization.
Both projects are still in early stages of development and Rourke's involvement is not yet a lock. He does however have an existing relationship with Tony Scott, having worked with him before his recent A-list acting resurgence on the Keira Knightley bounty hunter movie Domino. Unfortunately, Domino is widely regarded as Scott's worst film, ever. Not exactly a positive vibe to build on, though the movie's failure was far from Rourke's fault.
Your Daily Blend of Entertainment News