Who Silence Of The Lambs Almost Cast As Hannibal Lecter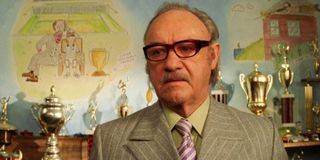 It's impossible to picture anyone other than Sir Anthony Hopkins as Hannibal Lecter in The Silence Of The Lambs. Just try. You can't. But, that was almost the case. Because Gene Hackman was originally so interested in playing Hannibal Lecter, that he not only bought the rights to Thomas Harris' novel, but he wanted to direct the film, as well.
Gene Hackman was one of the only individuals in Hollywood interested in buying The Silence Of The Lambs because Manhunter, the Michael Mann adaptation of Harris' original book, Red Dragon, which had Brian Cox in the lead role, had been a financial flop. However, after instigating its development, and while screenwriter Ted Tally was working on the first draft of his script for The Silence Of The Lambs, Gene Hackman randomly dropped out of production for one of the most doting reasons you're ever likely to hear: because his daughter said so.
While speaking to Deadline, Bob Bookman, who brokered Thomas Harris' book deals, explained that after Gene Hackman's daughter read the book, she immediately called her father and declared, "Daddy, you're not making this movie." Which, in hindsight, was probably a good thing, because even during Ted Tally and Gene Hackman's discussions on the film, the pair didn't seem to be on the same wavelength.
One such exchange between Ted Tally and Gene Hackman saw the actor admit that he might not play Hannibal Lecter since he also planned on directing The Silence of the Lambs. He then vaguely revealed the actor who'd replace him as the cannibal. Unfortunately, Ted Tally was too nervous to ask who Hackman was referring to at the time. Tally explained to Deadline:
In the end, Gene Hackman's decision to drop out of The Silence Of The Lambs paved the way for Jonathan Demme to take over as director, and, eventually, for Sir Anthony Hopkins to beat the likes of Dustin Hoffman, Morgan Freeman, and Sean Connery to secure the part as Hannibal Lecter. And, as the below scene proves, he did quite a splendid job with it.
This year marks the 25th anniversary of the release of The Silence Of The Lambs. Its place in the pop culture landscape was secured at the 1992 Oscars when it took home the Best Picture, Best Adapted Screenplay, Best Director, Best Actor, and Best Actress gongs. And it turns out that we have Gene Hackman's daughter to thank for that.
Your Daily Blend of Entertainment News
Thank you for signing up to CinemaBlend. You will receive a verification email shortly.
There was a problem. Please refresh the page and try again.