Watch Uzo Aduba's Chilling Version Of The Silence Of The Lambs Chianti Scene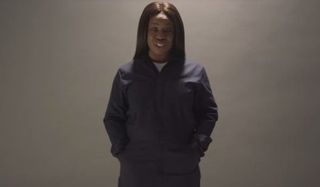 Orange Is The New Black's Uzo Aduba has taken on one of the most famous movie monologues in the history of celluloid as part of a new online series that has actresses re-imagining some cinema's finest scenes that starred men. Abuda decided to give the famous Hannibel Lecter monologue from The Silence Of The Lambs a whirl, and she wasn't half bad either.
Kudos to Uzo Aduba for reinterpreting the famous scene. Clearly, it takes all kinds of guts to try and make one of the finest performances of the last 30 years your own, but she did just that.
Aduba, who, over the last two years, has won two Emmy Awards for her work on Netflix's Orange Is The New Black, and recently appeared on The Wiz Live, recorded the above for a new online video series from Glamour. Role Reversal sees a number of female stars performing famous film moments by men.
But while Aduba's effort is indeed commendable, it doesn't really compare to Anthony Hopkins' version. How could it? Not only is she taking on the scene by herself, and doesn't have the Academy Award winning Jodie Foster to play off of, but Anthony Hopkins' performance was deemed so sensational that he picked up his very own leading actor Oscar for it.
While there's something terrifying about Uzo Aduba's eyes, she's just not quite as unsettling as Hopkins, who, in The Silence Of The Lambs, makes his entire face emanate a cunning menace and intensity that is just creepy. You can remind yourself of just how terrifying Anthony Hopkins is in the scene in question from The Silence Of The Lambs below.
In addition to Uzo Aduba's effort, Little Miss Sunsine's Abigail Breslin has provided her own interpretation of Brad Pitt's Tyler Durden from Fight Club, while Grandma's Julie Garner has taken on the almighty Daniel Day-Lewis with her own version of There Will Be Blood's Daniel Plainview.
Cindi Leive, the editor-in-chief for Glamour, opened up about why they provided these actresses with these opportunities, explaining that they felt inclined to because there is an "absence of meaty roles [for them] to sink their teeth into." Hopefully the series will now inspire some writers and directors to create similar kind of roles for these clearly talented actresses.
Your Daily Blend of Entertainment News