Even Anthony Hopkins Thinks It Was A Mistake To Reprise Hannibal Lecter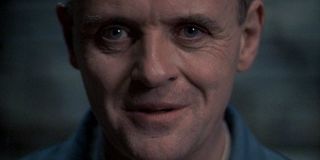 Sir Anthony Hopkins' performance as Hannibal Lecter in The Silence Of The Lambs is seen as one of the finest of the last 30 years. That's why he picked up the Best Actor Academy Award for his work. However, when he returned as the character for Hannibal and Red Dragon, the reaction was less impressive. And now the Welsh actor admitted he shouldn't have reprised the role.
Anthony Hopkins made this admission to The Wrap, confessing that because of the mixed response to both 2001's Hannibal and 2002's Red Dragon he no longer has any interest in playing the character. He said:
When Sir Antony Hopkins was pushed for an answer on whether he'd want to star as the iconic serial killer, who was created by author Thomas Harris, again the actor emphatically insisted that he was "done with that."
Not only does Anthony Hopkins appear to regret playing Dr. Hannibal Lecter in the Ridley Scott-directed Hannibal and Brett Ratner-helmed Red Dragon, but it also has adversely affected his feelings on Silence Of The Lambs too. Directed by Jonathan Demme, The Silence Of The Lambs was both a critical and financial success, receiving near universal acclaim from critics while it grossed $272.7 million from its budget of $19 million.
The Silence Of The Lambs is also one of only 3 films to have won the top five categories at the Academy Awards, with Hopkins picking up Best Actor, Jodie Foster claiming Best Actress, Demme being awarded Best Director, Ted Tally taking home Best Adapted Screeplay, and the film itself being considered Best Picture. The other two being Frank Capra's 1934 screwball comedy It Happened One Night and the Jack Nicholson-led 1975 classic One Flew Over The Cuckoo's Nest.
While that doesn't necessarily mean that Silence Of The Lambs is one of the greatest films ever made, it means that it deserves more praise than simply being labelled a "good film." Of course, Sir Anthony Hopkins etched himself into cinematic folklore with one particular sequence in The Silence Of The Lambs, which saw him utter, well, I'll just let you relive the scene in all of its glory below.
Anthony Hopkins isn't the only actor to star as the beloved character. Brian Cox played Hannibal Lecter in Michael Mann's Manhunter, Gaspard Ulliel took on the character in Hannibal Rising, and Mads Mikkelsen played the cannibal in the television show Hannibal. However, they each pale in comparison t Hopkins' turn in Silence Of The Lambs, which is rightfully regarded as the definitive portrayal. Just don't mention Red Dragon and Hannibal to him.
Your Daily Blend of Entertainment News