Why Acclaimed Director Peter Bogdanovich Doesn't Like Knocked Up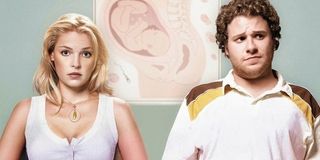 Along with the likes of Martin Scorsese, William Friedkin, George Lucas, and others, Peter Bogdanovich is part of the American New Wave, directors in the late 1960s and early 1970s who came in and changed the cinema landscape. Also a film critic and historian, he's no fan of modern comedies like Knocked Up and it's ilk.
Talking to Creative Screenwriting about his latest film, the throwback screwball comedy She's Funny That Way, the interviewer asked about the differences between the kind of films that influenced his latest and the likes of contemporary comedy filmmakers like Judd Apatow. The Last Picture Show director replied:
That's a pretty blunt, straightforward assessment, and it simply sounds like Bogdanovich isn't a fan of the more foul-mouthed, raunchy style of R-rated comedy that has become so common these days (we have to assume that he probably didn't go see Trainwreck). It is funny, however, that if you do a quick Google search, you can find a picture of Bogdanovich and Judd Apatow together at the premiere of Knocked Up, though from this statement, perhaps we can infer that hasn't happened much in the interim.
Starring Owen Wilson and Imogen Poots, She's Funny That Way is set to open in a wider release this weekend after making the festival rounds. The latest from the What's Up Doc? director focuses on a call girl (Poots) who is summoned to the hotel of a married Broadway director (Wilson). He has a weird fetish where, after he sleeps with a prostitute, he "rescues" them by giving them $30,000 to stop hooking and fulfill their dreams. Complications arise when, low and behold who should show up to audition for his next play, which stars his wife, but he lady of the evening he slept with.
This sounds like a suitably screwball style set up for this kind of movie, though you have to admit it doesn't sound that much less plausible that Katherine Heigl sleeping with Seth Rogen. Overall, the film has received largely negative reviews; some critics appreciated the nostalgic vibe, while others claim that's all the film has, and even the handful of positive reviews are far from glowing and over the top with their praise.
You can see it for yourself when She's Funny That Way hits theaters on August 21, and as for Knocked Up, you can rent it from any number of outlets, or just wait until is pops up on cable, which it does multiple times a day.
Your Daily Blend of Entertainment News