Why Batman v Superman Isn't A Man Of Steel Sequel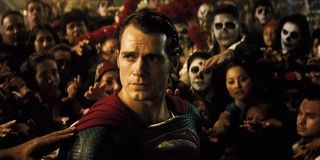 If you've read many Internet rants or seen the latest Honest Trailer, people have some reservations about Batman v Superman: Dawn of Justice. The teaser trailer brought up a lot of questions as to what this movie actually is. Is it a Man of Steel sequel? Is it supposed to introduce Batman? Is it setting up Justice League? According to Henry Cavill, the answers are no, yes and yes.
MTV recently caught up with the Superman actor in Las Vegas for the CinemaCon presentation of The Man From U.N.C.L.E. and pressed him for details. Though he didn't say much, Cavill did reveal a couple of things, namely that Batman v Superman is not a Man of Steel sequel. Wait, what?
That should help subside some of the complaints making the rounds…some of them, anyway.
Those present for last year's San Diego Comic-Con got to see some early footage from Batman v Superman, but we were all eager to see the first full teaser trailer hit the airwaves. Layered with the voices of Holly Hunter, Jesse Eisenberg, Jeremy Irons and Ben Affleck's new, gravely Dark Knight timbre, this brief look was already jam packed. Coming off the events of Man of Steel, the world isn't quite sure what to make of their new savior. Kal-El has his fair share of critics, his harshest being Lex Luthor (Eisenberg). While he's dealing with that dilemma, he also has to worry about Batman stepping in to make him bleed. Why does the Caped Crusader hate Superman so much? What would cause so many people to turn on the man who saved the planet from General Zod's army?
Then there's the second half of the film's title and Cavill's statements to consider. Here's the actor's full statement.
While the film will primarily be about the Batman v Superman aspect, Dawn of Justice speaks to the trickle of appearances throughout. Warner Bros. made a big showing in casting Gal Gadot as Wonder Woman, while we also received our first look at Jason Momoa's Aquaman. In addition, Ray Fisher and Ezra Miller are reportedly making some type of appearance in the film, as well.
Director Zack Snyder has a lot on his plate, and it's the same juggling act Joss Whedon faced with Avengers: Age of Ultron. There, he had to introduce Ultron, Scarlet Witch and Quicksilver, ignite some sparks between Captain America and Iron Man pre-Civil War, insert Easter eggs and a character from Black Panther, and further set up the Infinity War to come down the road. Reviews for Avengers are pretty positive, so here's hoping Snyder can accomplish the same feat.
Your Daily Blend of Entertainment News