The Batman V Superman Honest Teaser Is Funny And Clever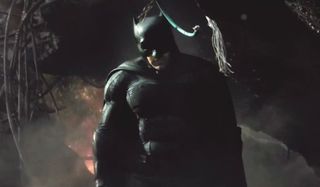 "Get ready to debate a teaser that will probably generate more drama than the movie itself." That can only refer to one thing: the Honest Trailer edition of the Batman v Superman trailer! Since debuting last week, our first look at Zack Snyder's Man of Steel sequel/Justice League prequel has been the talk of the town. Well, that and the new trailer for Fantastic Four. But whether you love it or love to hate it, you'll likely get a kick out of this hilarious spoof.
"Is it really surprising that a movie starring the two most iconic superheroes in the world would be controversial?" it begins. Layered over the Batman v Superman trailer were the voices of Holly Hunter, Jesse Eisenberg, Jeremy Irons and more, as they debated Superman's responsibilities and his cult-like following. With the Honest Trailer, this is replaced with slings at DC for its "horrible track record" and the ongoing feud between DC and Marvel fans.
Though, the one point made by the guy who sounds like Patton Oswalt addresses the most prominent reservation: "Stop with the brooding! The only one who gets to brood is Batman! They can't all be brooding!" Remember that rumor way back when that said the DC superhero movies have a "no jokes" policy? This trailer brings this back to the forefront of the conversation. Yes, Christopher Nolan's Dark Knight trilogy made dark and gritty superhero flicks an extravagance, but it also had some comedy timing thrown in the mix every so often. Man of Steel, on the other hand, had virtually zero funny business, which was a sore spot among the film's critics. I realize this trailer is only just over two minutes, but the mood seems to take the same edge.
The Honest Trailer also articulates mostly everything else we've been thinking about Batman v Superman, including how DC's racing to get to the first installment of the Justice League team-up. In addition to Ben Affleck's Caped Crusader and Henry Cavill's Kryptonian warrior, the film will also feature the first appearances from Gal Gadot's Wonder Woman, Eisenberg's Lex Luthor and Jason Momoa's Aquaman. Reportedly joining them will be Ezra Miller's The Flash and Ray Fisher's Cyborg, at least in cameo form. As the film's full title suggests, Snyder is ambitious in his plans to not only adapt Frank Miller's famous comic book story (The Dark Knight Returns) while simultaneously setting up the entire DC shared cinematic universe (Dawn of Justice).
Your Daily Blend of Entertainment News
Your Daily Blend of Entertainment News
Thank you for signing up to CinemaBlend. You will receive a verification email shortly.
There was a problem. Please refresh the page and try again.