Why Clint Eastwood's A Star Is Born Remake Is Pointless Without Beyonce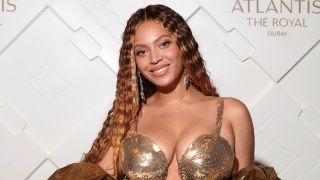 (Image credit: Photo by Mason Poole/Parkwood Media/Getty Images for Atlantis The Royal)
It wasn't a huge surprise to learn yesterday that Beyonce Knowles had given the slip to A Star Is Born, the latest remake of the hoary Hollywood tale that Clint Eastwood was planning to direct. She's been attached to the project for two years, with a rotating cast of leading men supposedly approached to co-star (Russell Crowe, Leonardo DiCaprio, Christian Bale, Tom Cruise and Bradley Cooper have all been rumored, believe it or not). The pairing of the megawatt A-list singer and a director as respected as Eastwood seemed perfectly logical, but the longer A Star Is Born languished in development with no male lead attached, the more it seemed clear it wasn't the gleaming opportunity it might have seemed two years ago.
Beyonce is a mom now, after all, and rich enough that she has absolutely no reason to do a single thing she doesn't feel like doing. There will probably be other movie projects for Beyonce that don't get caught up in so many delays, and more starring roles to help her become the real triple-threat she's been on the verge of becoming for a decade. But without her A Star Is Born is looking weaker than ever, and at this point, the entire remake idea is seeming kind of pointless without her at its center.
Yes, A Star Is Born is a story far older than Beyonce Knowles, emerging first in Hollywood as a 1937 drama featuring Janet Gaynor and Fredric March, then being remade into 1954's Judy Garland and James Mason vehicle, and finally as the 1976 version with Barbra Streisand and Kris Kristofferson. But all three previous leading ladies share one important thing in common: they were already huge stars before the movie was made, meaning the film was read by viewers as, in some way, a reflection of their own real-life rises to fame. It's right there in the title: a star is, not a star will be born. In every previous incarnation of the story, Esther Blodgett's (or Hoffman's, in the Streisand story) transformation into Vicki Lester has been played by a woman who already got there, and the film's tragedy is given extra depth by being played by an actress who, in some ways, directly knows what it takes to get to the top.
A Star Is Born is also a romance, as our heroine falls for an older man whose fame declines while hers explodes. Both Garland and Streisand had several high-profile relationships with other famous men that, whether intentionally or not, would have reflected on the story of the films. Garland had been married to director Vincente Minnelli (19 years her senior) until three years before her version of A Star Is Born, and Streisand had been married to Elliott Gould and dating Ryan O'Neal. None of their real-life relationships perfectly reflected the one in the film, nor would Beyonce's marriage to Jay-Z; the important thing is that these are all stars whose personal lives we are invested in, and who audiences want to see in this kind of intimate story about how fame and love intersect.
If Eastwood's version of A Star is Born aims to be about a singer and actress, as both the Garland and Streisand versions were, then Beyonce might truly be the only mega-star with the right combination of talents to play the role right now. Rumor has it that Eastwood already has Grammy-winner Esperanza Spalding lined up to take over the lead role, but as talented as she may be, she's not nearly the star Beyonce is, and won't bring the same kind of real-life intrigue to the very familiar story. If you're going to remake A Star Is Born you need a good reason to do it-- otherwise you're just recycling a story that's been told before, and well.
It's possible there are other actresses I'm not thinking of who can bring that same meta-textual meaning to A Star Is Born-- and if so, I'd love to hear about them in the comments.But for now, with Beyonce gone, Eastwood's take on the story is seeming downright pointless. Perhaps it's time to wait until the next real-life Vicki Lester emerges to merit telling this story all over again.
Your Daily Blend of Entertainment News
Staff Writer at CinemaBlend