Why The Dark Knight's Batman Won't Be In Any Other Superhero Movies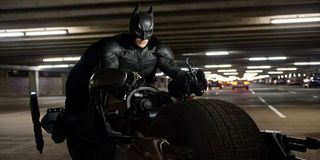 Christian Bale's portrayal of Batman in The Dark Knight series will go down in history books as one of the best Batman performances to date. And while there's been speculation on the return of The Dark Knight's Batman, Bale has put the notion to rest, assuring that his portrayal doesn't fit in any other superhero movies.
While Bale has been busy promoting his upcoming role in Exodus: Gods and Kings, he's been blasted with questions on his reaction to the new Batman introduced in upcoming Batman V Superman: Dawn of Justice. In a recent interview with IGN, Bale denied a return for his caped crusader stating that though The Dark Knight's Batman is a "character that could have kept on going and going and going, it was right for Chris [Nolan] to finish it where he did… And ours doesn't belong in any other version."
He's right in that it doesn't belong in another cinematic universe. Christopher Nolan's series is so cleanly linked together, that it serves as prime example of how a trilogy should work. Bringing Bale's Batman outside of that trilogy would throw off the beauty of the movie's bonds. They tell a grand story, with twists and turns, but end in a way that sums it all up. Bale added in his interview that, "It was appropriate to leave at the right time".
And without Bale acting as Batman, it is a totally different character, there's no debate. Bale's portrayal of Batman redefined the depth of the character. Aside from the voice, which was a bit over the top at times, a new Batman has pretty big wings to fill. The next time we see Batman will be in Zack Snyder's Batman V Superman: Dawn of Justice, and will be played by Ben Affleck. Already we know Batman in the newer universe is going to be an entirely different breed than The Dark Knight's Batman. But on top of that, Batman V Superman is set in a completely different world.
What Christopher Nolan and Christian Bale did so well was to create a realistic Batman. A man and plot grounded in reality. Concepts explored were not outside our scope of the world, and Bale's Batman was a foiled character with deep-seeded issues and human weaknesses. The new Batman V Superman already has a huge difference in style. The Batman in this movie coexists in a world with Superman, a super powered alien, and Wonder Woman, a warrior princess with superhuman powers. These characters would never exist in the world explored in The Dark Knight Rises trilogy. It's not to say that Batman V Superman isn't going to be incredibly awesome, but it going to include a very different Batman then we've grown accustomed to in the past few years. And we should let The Dark Knight's Batman stay contained in the trilogy that he thrives in.
[[ the ]] Batman V Superman: Dawn of Justice on March 25, 2016.
Your Daily Blend of Entertainment News
Thank you for signing up to CinemaBlend. You will receive a verification email shortly.
There was a problem. Please refresh the page and try again.