Why Emily Blunt Fought To Remove Her Nude Scene From Sicario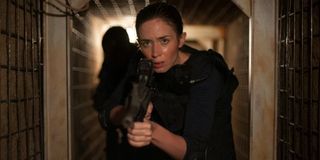 Sicario has Emily Blunt, a drug war, awards buzz, The Collector, Thanos, and gun-slinging. But what it doesn't have that it did originally is some Blunt nudity. According to the actress, the film from director Denis Villeneuve (Prisoners, Enemy) planned to feature a nude scene between Blunt and Benicio Del Toro, but she fought to cut it from the script — and she succeeded.
Blunt went on The Howard Stern Show (via Yahoo Movies) on Wednesday to discuss a number of topics, which also included her days filming The Devil Wears Prada and a little joke about rescinding her American citizenship that got blown out of proportion. From the chatter emerged this little tidbit about the nude scene in question. She said,
Who's "we," you might ask? "My tits," Blunt responded with a laugh. She continued to say that Del Toro, who was also a part of the scene in question, backed up her decision to have it nixed.
Sicario features Blunt as FBI agent Kate Macy, who's recruited by an elite government task force official (played by Josh Brolin) to aid in the drug war in Mexico. The film premiered at this year's Cannes Film Festival, during which time she remarked that there's a tendency to want women to become this ideal "for some mid-life crisis a guy is having." She says she's been adamant about fighting against this, which we can visibly see now in defending her stance to stay clothed. The specific contents of this scene are unknown, so it's difficult to argue from our standpoint whether the nudity better served the story, but since the producers eventually cut it from the film, it seems as though female nudity wasn't necessary. Though Blunt also said an increased focused on female directors and roles for women also help combat this issue, Sicario is another step in the right direction.
Blunt's statements on Howard Stern come days after The Martian star Jessica Chastain addressed the problem of female action stars and their over-sexualization. Blunt became part of the pack with her role in last summer's hit Edge of Tomorrow, and Sicario (and the Captain Marvel fan campaign) continues this streak. According to Chastain, who spoke with Radio Times,
Emily Blunt, in turn, has been fighting the good fight for feminism. She spoke about Sicario with The Belfast Telegraph and said that, although she was surprised someone still had to put their foot down in ensure roles went to women, she was fortunate that the writer, director, and studio backing Sicario were willing to make the film with a female in the main protagonist role.
The film is playing in theaters this weekend.
Your Daily Blend of Entertainment News
Thank you for signing up to CinemaBlend. You will receive a verification email shortly.
There was a problem. Please refresh the page and try again.