Why Emily Blunt Is Hesitant About Making Edge Of Tomorrow 2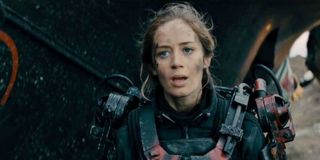 It would be hard to argue against the notion that the Hollywood landscape has become decidedly saturated with franchises and sequels over the years. The logic behind it makes sense: if people loved a movie – even if it had a self-contained story arc – studios can double their profits by producing another and slapping a "2" at the end of the title. That's exactly what is happening with Tom Cruise's recent film Edge of Tomorrow; recently there has been talk of a possible sequel, although co-star Emily Blunt has some reservations of her own.
According to Uproxx, while promoting her new film Sicario, Blunt spoke out regarding her trepidation towards participating in a follow-up to the 2014 time-bending sci-fi thriller,
Her statement doesn't instantly kill the possibility that we will see an Edge of Tomorrow sequel; we just have to hope that Tom Cruise and Chris McQuarrie come up with something absolutely mind-blowing to get her on board. Edge of Tomorrow already faces a tough challenge with regards to sequel possibilities. It's story – centering on a rookie soldier can come reset the day every time he dies in the face of an alien invasion – was fairly neatly tied up by the end of the proceedings, leaving very little room for a follow-up. However, according to the rumors that we have been able to get our hands on, Tom Cruise's initial pitch for a sequel won McQuarrie over to the idea of a second Edge of Tomorrow, meaning the concept could still prove novel enough to win Blunt over to signing on.
Blunt also seems to have an acute understanding of what many movie audiences have known for years: sequels often never live up to the glory of their originals. With some exceptions, many franchises often experience a trend of diminishing quality with each passing installment – hence the constant need for reboots when a series begins to feel stale. There's perhaps no better franchise that exemplifies this concept than Spider-Man: when Sam Raimi's Spider-Man 3 failed with audiences, Sony tried again with The Amazing Spider-Man franchise – when that failed as well they gave the property to Marvel andre-rebooted, casting Tom Holland as our friendly neighborhood Spider-Man. Ironically, however, later in her interview with Uproxx, Blunt did make mention of her recent involvement in the sequel to Snow White and the Huntsman.
It's comforting to know that the cast and crew involved with Edge of Tomorrow care about the quality of the product, rather than rushing a sequel in an attempt to cash in on the surprisingly positive reception of the original. If we do end up seeing Blunt an Edge of Tomorrow 2, we can rest easy knowing that the pitch was good enough to win her over to the project.
Originally from Connecticut, Conner grew up in San Diego and graduated from Chapman University in 2014. He now lives in Los Angeles working in and around the entertainment industry and can mostly be found binging horror movies and chugging coffee.
Your Daily Blend of Entertainment News
Thank you for signing up to CinemaBlend. You will receive a verification email shortly.
There was a problem. Please refresh the page and try again.