Why Every Movie Fan Should Be Happy About Fifty Shades Of Grey And Kingsman's Success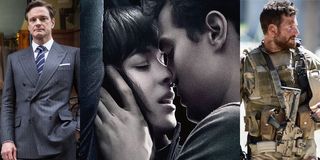 It's not tremendously hard to understand why movie studios tend to be a bit more hesitant when it comes to producing R-rated material. After all, the rating actively prevents movie-goers under the age of 18 from paying for tickets, and why make movies that will automatically limit the audience size? It's a hard point to argue, but at the same time Hollywood has been undervaluing R-rated movies for years, and looking down on their potential profitability. As seen in this past weekend's box office results, that thinking should really be put into the past.
While the final numbers are still rolling in, this weekend completely dominated by movies sporting restrictive ratings – with three out of the four top spot titles hitting theaters with an R classification. Fifty Shades of Grey led the pack with an impressive $81.6 million take; fellow new release Kingsman: The Secret Service over performed with a $35.6 million total; and American Sniper continued its killer tear over the last few weeks by adding another $16.4 million to its staggering $300 million-plus total to date. Obviously this is exciting news to anyone who has found themselves a fan of one or more of the titles, as it's always fun to see that other people appreciate something as much as you do, but there might also be some very positive ramifications for the future of R-rated filmmaking. After all, a rising tide lifts all boats, and must wonder if this could lead to a wave of studios starting to look at their R-rated projects in a different light.
The primary area we may soon start to be seeing changes is in simple budget allotment for studio projects that can't be made without an R-rating and have been seen as a hard gamble as a result. Acknowledging the limitation that comes with cutting the teen audience out of seeing a particular project, studios have been known to proportionally trim budgets – but with a greater confidence in those properties the equation may change. While studios can't necessarily predict that their next adult-themed romantic drama will make as big a bang at the box office as Fifty Shades of Grey, they may be willing to throw a few extra million dollars its way to perhaps increase production value and perhaps the odds of the project being a hit in the process. The market is clearly out there, and the name of the game is just reaching them.
On beyond just the money factor, we may also potentially see an effect on the creative side. It's rare that a year goes by without us hearing about projects that has been trimmed from an R-rating to a more family friendly PG-13 – but an industry feeling positive about more adult-oriented material could have a completely different perspective on that. The money made by Kingsman: The Secret Service clearly shows that there is an audience keen on seeing stylish, violent comic book adaptations, and in the near future we may see a production company try and target them again (I'm looking at you, Fox). Hopefully this can stretch to genres not represented at the box office weekend as well, though, as I'm surely not the only one tired of seeing castrated horror movies.
Fifty Shades of Grey, Kingsman: The Secret Service, and American Sniper are all very different films that had many, many different factors leading into their individual success stories, but it's the common, adult-focused ground that makes their box office wins so notable. While we don't necessarily expect to see changes immediately, it will be interesting to see if this develops as a trend over time.
Your Daily Blend of Entertainment News
Assistant Managing Editor
NJ native who calls LA home and lives in a Dreamatorium. A decade-plus CinemaBlend veteran who is endlessly enthusiastic about the career he's dreamt of since seventh grade.
Your Daily Blend of Entertainment News
Thank you for signing up to CinemaBlend. You will receive a verification email shortly.
There was a problem. Please refresh the page and try again.