Why Ewan McGregor's Finally OK With Doing Trainspotting 2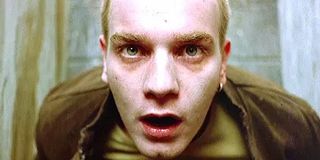 You can't help but be excited about Trainspotting 2. Sure, the fact that the original is rightfully regarded as one of the best films of the last 25 years means there's a lot to live up to. But Trainspotting 2 is bringing back the entire cast, as well as director Danny Boyle and writer John Hodge, and just the thought of seeing Ewan McGregor as Renton again is enough to bring a smile to any moviegoer's face. The Scottish actor has now begun discussing Trainspotting 2, and he's admitted that he, as well as the rest of the cast, only signed up because of just how good John Hodge's script is.
Ewan McGregor admitted to Collider that if the screenplay had been flat and lacked the vitality and energy of the original then the rest of the cast probably would have decided against returning. Especially because of the original's popularity:
Irvine Welsh wrote Porno, the sequel novel to Trainspotting, back in 2002, and it immediately set tongues wagging about whether Danny Boyle and his motely crew would follow suit and adapt the book for the big screen. However, Danny Boyle and Ewan McGregor were quick to downplay this plan, insisting that they'd only do so when the time was right.
Obviously that time has finally arrived. But what do we know about Trainspotting 2? Well, unlike Porno, which is set 10 years after the original book, the follow-up is going to be set 20 years after. This is fitting as Trainspotting was released back in 1996. The leading foursome from the original film have all confirmed to return; we will see Ewan McGregor as Rent Boy, Ewan Bremner as Spud, Jonny Lee Miller as Sick Boy, and Robert Carlyle as Franco back on the big-screen.
Made for just $1.5 million, Trainspotting was a huge success upon its release, going on to gross $72 million across the world. Set in the late 1980s in the economically depressed area of Edinburgh, it followed the lives of a group of friends who were all addled with drug addiction, but it did so in an exciting and humane fashion. It was instantly met with critical acclaim, and is now regarded as one of the great British films of all time.
Basically, Trainspotting 2 has a lot to match, let alone eclipse. Ewan McGregor has teased that he will start shooting very, very soon, while Trainspotting 2 will finally be released at some point in 2017.
Your Daily Blend of Entertainment News
Thank you for signing up to CinemaBlend. You will receive a verification email shortly.
There was a problem. Please refresh the page and try again.