Why Gun Companies Are Furious At Liam Neeson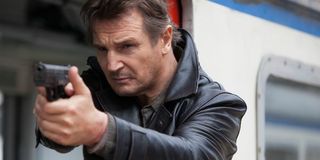 Gun control has always been a hotly debated topic for Americans that has bled into the movie scene many times. If it's not Michael Moore slamming American Sniper for heroizing snipers or Seth Rogen's implications on social media, it's gun associations firing back. Today, PARA USA is the one making headlines for bashing Liam Neeson.
The North Carolina-based gun manufacturer is pretty torn up about some of the things the Taken 3 star recently has said about guns, considering they were the ones who supplied firearms for use in the film. As a result, they posted a lengthy statement to their Facebook page.
What exactly did Neeson say to piss these guys off so much? During a Taken 3 press event in Dubai, Neeson called gun use in America "a fucking disgrace." But he didn't blame movies. As reported by The Washington Post, he said he grew up watching cowboy flicks and pretending to be one of them by making gun gestures with his hands. It's not like he ended up being a killer. In defense of gun depictions in Taken 3, he said:
It seems that all we see of Neeson on screen nowadays is in gun-happy films, like Non-Stop, A Walk Among the Tombstones and A Million Ways to Die in the West. Even his role in The LEGO Movie saw him firing shots at Wyldstyle and Emmett, which makes his statements surprising. It certainly can't mean anything good for his upcoming films.
This point of controversy comes just days after filmmaker Michael Moore bashed Clint Eastwood's American Sniper on Twitter. While he praised Bradley Cooper's performance as Chris Kyle, the deadliest sniper in American history with the most recorded kills, he tweeted that he was taught snipers were "cowards." Though, that certainly didn't hold too many people back from going to see it; the film broke multiple box-office records in its opening weekend.
Where do you stand on this issue? Even if you're in favor of gun control, does Neeson's defense of violent films hold any water?
Your Daily Blend of Entertainment News
Your Daily Blend of Entertainment News
Thank you for signing up to CinemaBlend. You will receive a verification email shortly.
There was a problem. Please refresh the page and try again.