Why IMAX Isn't Giving Any Opening Weekend Screenings To The Hunger Games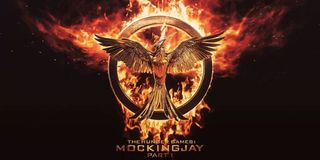 I can hardly wait until The Hunger Games' signature four note whistle hits theatres this November 21 with the franchise's third installment, Mockingjay Part I. If you're also a huge fan of the movie series, then I'm sure you're already one of the record number of eager presale ticket buyers, but with that, you might also have noticed that Mockingly isn't shilling an IMAX release. Weird oversight on the part of Fandango? Nope. What you could be witnessing is a sci-fi battle between two of this year's biggest film releases.
In the New York Times' recent profile of the ineffable Jessica Chastain, the paper briefly mentions that Lionsgate has been squeezed out of any IMAX screening slots by Christopher Nolan's Interstellar, which premieres November 7. Allegedly all available screens have been committed to Nolan's feature, which seems so incredible that it just can't be true. Particularly since Mockignjay is being released a full two weeks after Interstellar and the loss of IMAX screenings would obviously be detrimental to sales. The jumbo screen treatment contributed to an eight per cent ($12.6 million) market share of the last Hunger Games film, Catching Fire, during last year's opening weekend. What's more, in their estimations, Variety (opens in new tab) reports that Mockingjay could even bring in $28 million less than Catching Fire if the IMAX oversight were to go ahead. That's enough to cause an uprising.
Interestingly, last year at Mashable, they touched upon another potential reason for Mockingjay's IMAX absence. In their interview with Francis Lawrence, the returning Hunger Games director said:
So the lack of screenings could have nothing to do with Interstellar's cosmic push, but simply be down to the fact that, unlike Catching Fire, Mockingjay wasn't even filmed with IMAX cameras? I find it dubious. The fact that Lawrence limited his use of IMAX cameras while shooting Mockingjay doesn't necessarily convey an intention of not wanting the film shown in the widescreen format at all.
True purists will claim that anything not filmed through an IMAX lens should not get an IMAX release, but you know, some people do love the extra rumble of sound beneath their feet and all-consuming viewing IMAX offers (not to mention comfier seats at some), regardless of the technical logistics. At least screening Katniss' third act shoot-out in both regular and IMAX allows cinema-goers a choice of where to plonk their butts. Right? Would you be upset if Mockingjay didn't come to an IMAX theatre near you or are you content with kickin' it old school?
Your Daily Blend of Entertainment News
Thank you for signing up to CinemaBlend. You will receive a verification email shortly.
There was a problem. Please refresh the page and try again.