Why It Took So Long For Barbershop 3 To Be Made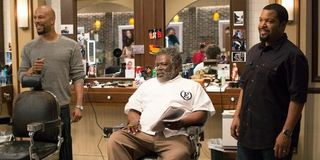 Rather than instantly being excited when Barbershop 3 was announced, most moviegoers were instead surprised. Not only were 2002's Barbershop and 2004's Barbershop 2: Back In Business hardly box office smashes, neither was the Queen Latifah led 2005 spin-off Beauty Shop. But one man who has been tirelessly working for over a decade to get another Barbershop film made is producer Robert Teitel. And he's now explained why it took so long.
Robert Teitel talked about why it's taken so long for Barbershop: The Next Cut to make it to the big screen when I visited the set of the upcoming comedy last year. And the producer admitted that he found resistance from studios to make an "urban" film, all of which changed because of the success of Malcolm D. Lee's The Best Man Holiday. What's serendipitous about this turn of events is that Malcolm D. Lee is now directing Barbershop: The Next Cut. Robert Teitel explained:
While Robert Teitel was working tirelessly to get Barbershop: The Next Cut off the ground, it turns out that the rest of the cast and crew for the film had long assumed that the franchise was dead.
In fact, when I sat down to talk to Eve, who reprises her role as Terri for a third time in The Next Cut, the musician/actress admitted that when she was asked to return she remarked, "No, a third one? Really??" Director Malcolm Lee also revealed that The Next Cut's writer Kenya Barris had dubbed Barbershop 3 "the sequel no one wanted to ask for."
However, everyone involved in Barbershop: The Next Cut were soon convinced to join onboard the project because of the power of the script and the film's intended message. Audiences will get to see for themselves if it was worth the hassle when Barbershop: The Next Cut is released on April 15.
Your Daily Blend of Entertainment News