The Real-Life Social Issue Barbershop 3 Wants To Address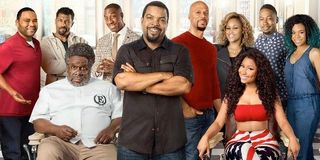 While Barbershop: The Next Cut's main ambition is to make audiences laugh, its cast and crew are very adamant that they want to try and address the huge amount of gun violence that is still rife in the South Side of Chicago, which is where the comedy is set. During my set visit to see the comedy being filmed, Barbershop: The Next Cut's cast and crew opened up about how they wanted to address this real-life social issue that has so far led to 739 people being shot in Chicago in 2016 alone.
Director Malcolm D. Lee explained that they're trying to take a non-judgmental approach to those that get caught up in such violence, revealing that Ice Cube's son in The Next Cut gets recruited by the gangs, which obviously his father is far from fond of. As the director explained:
Malcolm D. Lee added that Barbershop: The Next Cut, while certainly a comedy, looks to discuss the decline and turmoil of the Chicago inner city and how the neighborhood of the film has deteriorated and become overrun by gangs, which leads to murders being committed on a weekly basis.
However, while making the threat of danger in the community prevalent, Malcolm D. Lee also wanted to infuse it with the same colloquial humor about politics, sports and everything in between that made the original films so unique and appealing.
Cedric The Entertainer, who is reprising his role as Eddie from 2002's Barbershop and 2004's Barbershop 2: Back To Business in The Next Cut, echoed Malcolm D. Lee's comments, insisting that he believes the film has a very real chance of providing a commentary in an entertaining fashion.
Cedric The Entertainer believes that the casting addition of Common to the Barbershop ensemble brings more integrity to the film's ambitions, too. That's because not only does the 44-year-old hail from the South Side of Chicago, but, in Cedric's own words, he is also "a credible young voice in the world today who speaks out and stands up and you believe him to be truthful."
When we sat down to talk with Common about working on Barbershop: The Next Cut, he admitted that he was instantly drawn to the project because of its message, especially since it was set in Chicago.
You'll get to see for yourself just how well Barbershop: The Next Cut addresses these issues in only a few days time as the comedy will finally be released on April 15.
Your Daily Blend of Entertainment News