Why James Cameron Is Done Caring About Terminator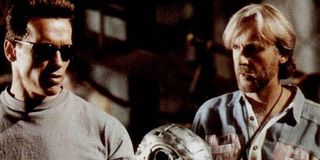 James Cameron is well and truly finished even remotely being concerned with the Terminator franchise. For the time being at least. The legendary director is still hopeful that the upcoming addition to the series, Terminator: Genisys, will be fun, but he has declared that the franchise simply isn't his problem anymore.
Cameron made the remarks to Empire Magazine during an event to celebrate the 30th anniversary of The Terminator. That's right - it's been 30 years since Arnold Schwarzenegger's monosyllabic monstrosity swanned into Los Angeles to try and kill Linda Hamilton's Sarah Connor. How time flies. Cameron attended the special soiree that was held at the Egyptian Theater in Hollywood, and he was of course inundated with questions regarding Alan Taylor's 2015 effort. Despite his history with the franchise, James Cameron made sure to make it clear that he isn't bothered in the slightest whether it's successful or not. Said the famed sci-fi filmmaker,
Even though it sounds as if he has distanced himself from the franchise, James Cameron does still have a few connections to Terminator: Genisys, and he has read an early draft of the script that he is certain will result in the film at least being "fun." He noted that he has worked with Genisys screenwriter Laeta Kalogridis in the past - as she was an executive producer on Avatar - and added that he's optimistic for how the sequel will come out.
Cameron went on to provide the ultimate tease, though. It was noted that the right to the characters and ideas behind the Terminator franchise will fall back into his hands again in 2019, and he went on to hint that he might be tempted to "re-invent the franchise" once that happens. Said the Oscar-winning director,
Most Terminator fans are probably salivating at the mere thought of Cameron jumping back into the franchise. Not only has the series lost its edge since his involvement ceased after 1991's Terminator 2: Judgement Day, but Cameron's dedication to building on Avatar's gargantuan success with a number of sequels has been dragging on for so long now that it's actually become tedious. Once Avatar's three follow-ups have been released in 2016, 2017 and 2018, it would be amazing if he decided to venture back into the Terminator world. Especially since, rather than being over-awed with handling sequels, he has always flourished and helped to both make franchises stronger and into a new and exciting directions. But as that won't happen until 2019 at the earliest, we probably shouldn't start holding our collective breath just yet.
Your Daily Blend of Entertainment News