Why Joaquin Phoenix Has Zero Interest In Ever Doing A Marvel Or Star Wars Movie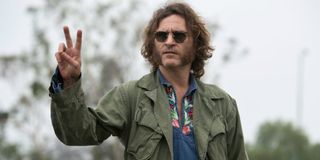 Inherent Vice star and self-proclaimed Oscar hater Joaquin Phoenix was considered for the lead role in Marvel's Doctor Strange. By now you hopefully know that the part ultimately went to Benedict Cumberbatch, and Phoenix is totally fine with that. In fact, he says he'd rather stay away from all of those Marvel movies, and even the upcoming slate of Star Wars films.
Speaking with Time Out New York for a recent interview, the actor said,
For months, Marvel was in negotiations with Joaquin Phoenix to star as their Sorcerer Supreme in the upcoming 2016 film, directed by horror filmmaker Scott Derrickson. While it seemed on the outside that things would mesh, he abruptly left the project, leading the superhero head honchos back to the drawing board.
While audiences clearly love themselves a Marvel movie, Phoenix is by no means the first person to turn down one of these projects. Joss Whedon, the man behind the first two Avengers films, spoke about how exhausting the process is trying to make one of these films while appeasing the Marvel overlords. Alan Taylor, who directed Chris Hemsworth in Thor: The Dark World, also took issue with their creative process (or lack thereof) as he spoke about at length. Then there was the highly publicized exit of Edgar Wright from the Ant-Man director's chair, after boarding the project to both helm and write the film. Most recently, however, is Ava DuVernay. The Selma director revealed that she spoke with Marvel about taking on the solo Black Panther film. She didn't take the job, which she said was over creative differences.
It's also not an easy sell for the actors. Chris Evans spoke publicly about his desire to leave the role of Captain America behind. After two standalone films, two Avengers films, and at the very least one more standalone Captain America/"Avengers 2.5" movie on the way (Civil War), he wanted to focus more on his passion projects and directing his own works. At this point, it's practically expected for a Marvel actor to be contractually obligated to appear in more films when they sign on for a role. For Joaquin Phoenix, all of this just didn't jive with his sensibilities.
Phoenix did admit, however, that he likes tentpole blockbusters, and even praised Chris Pine's work in the Star Trek reboots as "genius." But Phoenix elaborated:
Though we'd love to believe otherwise, Star Wars movies or the Marvel Cinematic Universe just is not for everyone. While the studio is supportive of the filmmaker's creative talent, it also has its own agenda, which is tying every film into the overarching cinematic universe leading up to Avengers: Infinity War, Part 1 and Part 2. That said, there are many success stories, including James Gunn, who seems to be having a blast with Guardians of the Galaxy.
Your Daily Blend of Entertainment News
Thank you for signing up to CinemaBlend. You will receive a verification email shortly.
There was a problem. Please refresh the page and try again.