Marvel Just Showed Doctor Strange, And He Looked Like This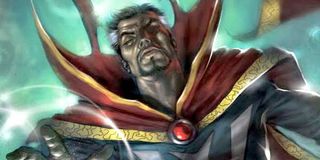 Marvel Studios is going to be getting a bit weird with the release of their next big non-sequel superhero film. Scott Derrickson's Doctor Strange will be landing in November 2016, and we've already been promised that the film will fully embrace crazy sci-fi/fantasy concepts like alternate dimensions, while also presenting something visually akin to Disney's Fantasia. Sadly, Marvel and Disney have not yet released any materials publicly to give us a look at what to expect from the film, but today we got a very special preview of the Sorcerer Supreme's new movie.
The big live-action presentation was held at the D23 Expo this morning, and while Doctor Strange hasn't actually entered production just yet, that didn't stop the movie from showing off some goods. Marvel Studios President Kevin Feige was on stage during the event, and introduced a special sizzle reel featuring previously unrevealed artwork from the new blockbuster – including our "first look" at Benedict Cumberbatch. And I can tell you that he looks exactly how you want him to look.
Let's start with the actual costume shall we? Earlier this month, a report came out describing Doctor Strange's live-action design, and while the description got a few elements right, it also got a few things wrong. For starters, the outfit that the character wears is definitely darker than what's presented in the comics, but the color scheme is exactly the same. He sports a cool navy blue tunic, and – of course – has a flowing, red Levitation Cloak strapped to his back. It's also worth mentioning that Benedict Cumberbatch will indeed be sporting a goatee in the movie – and it's really the detail that turns the British star into Marvel's master of magic.
Operating like a motion comic, and featuring voice-over from Scott Derrickson, the featurette mostly served to give us a peek into the story that is being told in Doctor Strange, which will explain how Dr. Stephen Strange goes from being one of the best neurosurgeons in the world to being one of the most powerful sorcerers in the world. The concept art shown featured Strange hanging out in what looks like a high-tech surgery suite, and getting into the horrific car accident that would permanently damage his hands. It's this event that winds up taking him to the ends of the Earth looking for a cure, eventually leading him to become a student of Tilda Swinton's The Ancient One (who sadly was only shown from a distance).
The footage also gave us the briefest look at the character who will be serving as the central villain of Doctor Strange: Chiwetel Ejiofor's Baron Karl Amadeus Mordo. While the character has a more traditional supervillain body suit look in the comics, his costume in the movie will be much more realistic, and appeared to be more of a green robe, complete with a large sash across his chest. Sadly, Scott Derrickson's narration didn't provide any background regarding how he will fit into the film (if the story follows the comics, he will be a fellow student of the Ancient One who eventually tries to kill his master).
The preview also provided a first look at some of the crazy action that Doctor Strange will be bringing to the big screen – both on Earth and in alternate dimensions. There was one particular sequence that showed hundreds of cars being lifted in the air in a busy city, and while we don't know exactly who is making the vehicles fly, it's a surprisingly threatening image. The artwork also gave us a peek into what we can expect to see when the titular hero astral projects his mind to another world, providing us with visuals that look similar, yet totally different to what we've seen in the Thor titles and Guardians of the Galaxy. One can hope that these kinds of effects will only get more extreme and bizarre when the post-production team is getting the finished product ready for theaters.
Doctor Strange isn't scheduled to go into production until November, which means that it's probably going to be a while before a first look image is released, but today's D23 presentation most definitely did a great job prepping our palate for the adventure. Stay tuned for more details about the exciting new film, and get ready for its arrival in theaters on November 4, 2016.
NJ native who calls LA home; lives in a Dreamatorium. A decade-plus CinemaBlend veteran; endlessly enthusiastic about the career he's dreamt of since seventh grade.
Your Daily Blend of Entertainment News
Thank you for signing up to CinemaBlend. You will receive a verification email shortly.
There was a problem. Please refresh the page and try again.