Why Pierce Brosnan Didn't Like Spectre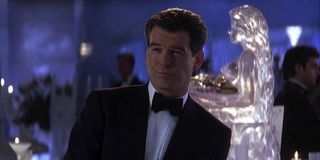 Despite an initial onslaught of positive reviews, and the fact that it's a money making juggernaut at the box office, the latest James Bond movie, Spectre, hasn't been as warmly embraced as its predecessor, Skyfall. The movie teeters on a 63% fresh rating on Rotten Tomatoes (for comparison, Skyfall is 93%, and the audience score discrepancy is similarly wide), but it wasn't just critics who have taken issue with Spectre, as one former James Bond, Pierce Brosnan, has added his voice to the chorus of disapproval.
The star of Die Another Day, Goldeneye, Tomorrow Never Dies, and The World is Not Enough recently spoke to Hitfix about the upcoming home video release of his disaster film No Escape. When the subject of the new James Bond movie came up, he did not mince words, saying:
Brosnan's observations are fairly in line with the general critical consensus. Many have complained that the film is too long and meandering and spends too much time trying to get into the head of its protagonist, not to mention being overly referential to the franchise as a whole—you can find nods to just about every last Bond movie in Spectre if you look hard enough.
Though the 62-year-old Irish actor, who played the iconic spy around the turn of the new millennium, took issue with the plot and the story of Spectre, he did praise his successor, Daniel Craig. He tipped his cap to the actor's looseness in the role and his ownership of the long-running character.
Still, despite generally tepid reviews — even the most positive ones seem to admit that it's not the best in the family line, or even in Craig's time in the lead — Spectre has been a sizable hit. This past weekend it won the box office race handily and has made more than $542 million globally. While that isn't a bad sum, it still has a ways to go to be profitable as it is estimated that it will take a $650 million haul in order for the movie to break even when you factor in production, marketing, and other expenses. At this point it's probably not going to get anywhere near the $1.1 billion total that Skyfall pulled off, but then again, most movie aren't going to find that kind of success.
Spectre is in theaters now, and though he's waffled about whether or not he'll be back, Daniel Craig is supposedly contractually obligated for one more James Bond movie, so we'll have to wait and see how things work out on that front.
Your Daily Blend of Entertainment News