Why Pierce Brosnan Was Never Totally Comfortable Playing James Bond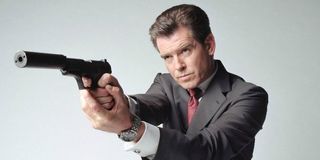 It's not easy being Bond. Aside from the massive undertaking of headlining one of the most beloved movie franchises of all time, there's also the matter of putting your own mark on the character. No two Bonds are the same, after all. This proved to be exceptionally challenging for Pierce Brosnan. The actor recently opened up about picking up the mantle, and he says he was never really found his footing as 007.
Among the stories of lessons learned and childhood memories, Brosnan told GQ magazine that he never felt his iteration of Bond really stood out when compared to the more celebrated iterations. He said,
Earlier on in the piece, Pierce Brosnan noted that there hadn't been a Bond movie in six years; Brosnan debuted as Bond in 1995's Goldeneye, while Timothy Dalton's last film as 007, Licence to Kill, dropped in 1989. There was a lot of pressure coming at him from every angle to get it right. Though he dances around the issue and even cuts himself off mid-sentence at one point, it seems as though he's trying to say that there were certain restrictions hindering his performance. What those were are unclear, though they seem to do with this pressure to continue the franchise years later. He mentions, though, that when he returned to action with The November Man, he was able to do everything he "didn't get to do in Bond, so to speak."
These statements echo Brosnan's previous statements on his time in the action seat. He gave an interview with The Telegraph in 2014, during which time he said he never watches himself play Bond because his performance "is never good enough." He also mentioned how the action never felt real to him and that his movies were only able to grasp at the surface of the character, though he does say this could all stem from his own insecurities.
Aside from The November Man, Brosnan recently starred in How To Make Love Like An Englishman and Survivor, opposite Milla Jovovich. He is also set for a number of projects coming soon down the pipeline, including No Escape with Owen Wilson and an untitled thriller with writer Jack Orman. As for Bond, we'll be seeing Craig reprise his role as the current 007 for Spectre, dropping this November.
Your Daily Blend of Entertainment News
Thank you for signing up to CinemaBlend. You will receive a verification email shortly.
There was a problem. Please refresh the page and try again.