Why We'll Never Have A Female James Bond, According To Pierce Brosnan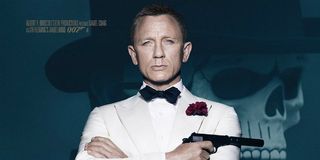 If a certain sect of fandom had its way, then Idris Elba would be the next James Bond if and when Daniel Craig hangs his pristinely fitted suit back in the closet. Given the legacy, however, diversity in the lead role of this franchise does not seem to be coming, and this especially goes for those online wondering why Bond can't be a woman. Pierce Brosnan, who played the character in four installments, recently spoke about the subject and his thoughts on why the next Bond will be a white man.
Brosnan spoke with the Press Association to promote his latest movie Lessons in Love, but, naturally, Bond eeked into the conversation. Regarding the future of the character, he said,
Earlier this year, British Labour Party politician Ed Miliband met with Gone Girl star Rosamund Pike and shortly after remarked that "she'd make a great Bond." While it's even more unlikely that Bond will be female than a black actor, this sentiment echoes a call for more diversity. Need recent examples? Disney's Marvel Studios is slowly but surely upping this factor with solo films for Black Panther and Captain Marvel, while Paul Feig is rebooting the traditionally all-male Ghostbusters with female actresses.
It's hard to imagine why Craig would retire as Bond. The actor said that he expects Spectre, out this November, will be his last go. However, when we spoke with the producers on the film's set, they said he has an open-ended contract, implying that they're all playing it by ear. That hasn't stopped UK bookies from placing bets as to who might succeed him. Some names that have been thrown around are Damien Lewis of Homeland and Tom Hardy of the upcoming gangster film Legend.
Idris Elba was another name, and his fans have rallied in support of this decision. Recently, there was a controversy surrounding James Bond author Anthony Horowitz, who said that the Luther and Beasts of No Nation actor couldn't play Bond because he's "too street." He since apologized for the remarks, and Elba took to Instagram with the following reply.
As for Spectre, Monica Bellucci says she's not you're typical Bond girl, but rather a "Bond woman." She's joined by Lea Seydoux, Dave Bautista, Christoph Waltz, Naomie Harris, Ben Whishaw, and Ralph Fiennes.
Spectre will hit theaters on November 6.
Your Daily Blend of Entertainment News
Thank you for signing up to CinemaBlend. You will receive a verification email shortly.
There was a problem. Please refresh the page and try again.