Why Regina Hall Still Loves Scary Movie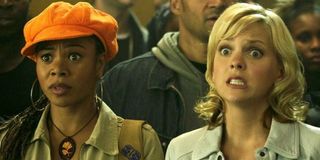 It's been 16 years since Regina Hall shot to international movie stardom with her performance as Brenda Meeks in Scary Movie. As the best friend to Anna Faris' Cindy Campbell, the duo instantly received acclaim for their relatable patter in such an outlandish and hilarious film. And it turns out that Hall still looks back fondly on the time she spent working on the comedy, especially because she adored working with Anna Faris.
Regina Hall made this admission to me when I visited the set for Barbershop: The Next Cut last year. Obviously, as a comedic stalwart, Hall has had many highlights in her career, but when pressed for her favorite she made it clear there was only going to be one winner.
While the original Scary Movie possessed some rather hilarious moments, and was an enjoyable parody of the horror and slasher genres that dominated the mid-to-late 1990s, its subsequent sequels quickly declined in quality. In fact, arguably the only good element about Scary Movie 2, Scary Movie 3 and Scary Movie 4 was the repeated appearances of both Regina Hall and Anna Faris as the bumbling buddies.
Regina Hall's last appearance in the Scary Movie franchise came in 2006, but she's continued to excel in the comedy genre, appearing in Death At A Funeral, Think Like A Man, The Best Man Holiday, About Last Night, and now Barbershop: The Next Cut, in which she plays Angie, the owner of the beauty salon that is now adjoined to Calvin's titular establishment.
The third Barbershop film features an all-star cast, including the returning Ice Cube, Cedric The Entertainer, Antony Anderson, and Eve, as well as impressive new posse of actors like Nicki Minaj, J.B. Smoove, Lamorne Morris, Common, and Regina Hall. You can see if the follow-up matches its predecessors, when Barbershop: The Next Cut is released on April 15.
Your Daily Blend of Entertainment News
Thank you for signing up to CinemaBlend. You will receive a verification email shortly.
There was a problem. Please refresh the page and try again.