Why Security Shut Down A CinemaCon Screening Of Now You See Me 2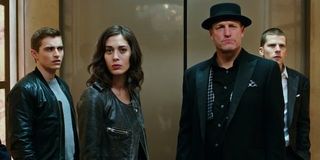 CinemaCon 2016 has been going on for the past couple days in Las Vegas, and as part of Lionsgate's presentation, the studio had planned a screening this afternoon of their upcoming summer blockbuster, Now You See Me 2, at the Colosseum in Caesar's Palace. At first, attendees were watching the movie as planned, but about 10-15 minutes into the feature, the screen went black and the crowd was asked to calmly exit the auditorium. Now there's word that the shut down was due to security concerns.
Although the staff originally attributed the sudden shutdown to technical issues, The Wrap reports that the Caesar's Palace security evacuated the theater after they were informed about an unattended backpack at one of the seats. This was done as a precautionary measure, and after authorities inspected the bag, they determined it wasn't a threat. However, the screening of Now You See Me 2 has since been canceled. The movie cut out just as Lizzy Caplan, who plays new character Lula, was being introduced.
Here's the official statement from Lionsgate on the incident, via The Wrap reporter Jeff Sneider:
Given how heavily populated CinemaCon is currently and security being taken especially seriously, it's understandable that security wanted to take the necessary precautions to make sure the backpack wasn't concealing a weapon. Unfortunately for Lionsgate, it made for a lackluster conclusion to their presentation. Along with appearances from Tyler Perry and Keanu Reeves to promote their own upcoming projects at the studio, magician David Copperfield performed tricks for the audience and recapped 2013's Now You See Me before the sequel screening at 2:30 p.m. Oh, and before anyone writes in the comment section, yes, there have already been plenty of jokes about Now You See Me 2 not being seen. Move along, now.
Taking place one year after the events of the first movie, Now You See Me 2 will follow the Four Horsemen main group reuniting for a performance that will attempt to expose the "unethical practices of a tech magnate." The villain this time around is Walter Mabry, played by Daniel Radcliffe, who will enlist them to perform their most dangerous heist yet, thus necessitating that the magicians pull off "one last unprecedented" stunt to clear their names and unveil the mastermind behind everything. The returning cast includes Jesse Eisenberg, Mark Ruffalo, Woody Harrelson, Morgan Freeman, Michael Caine and Dave Franco.
While this particular screening didn't work out as planned, moviegoers can look forward the John Chu-directed Now You See Me 2 hitting theaters on June 10, and a third movie is already in the works.
Connoisseur of Marvel, DC, Star Wars, John Wick, MonsterVerse and Doctor Who lore. He's aware he looks like Harry Potter and Clark Kent.
Your Daily Blend of Entertainment News
Thank you for signing up to CinemaBlend. You will receive a verification email shortly.
There was a problem. Please refresh the page and try again.